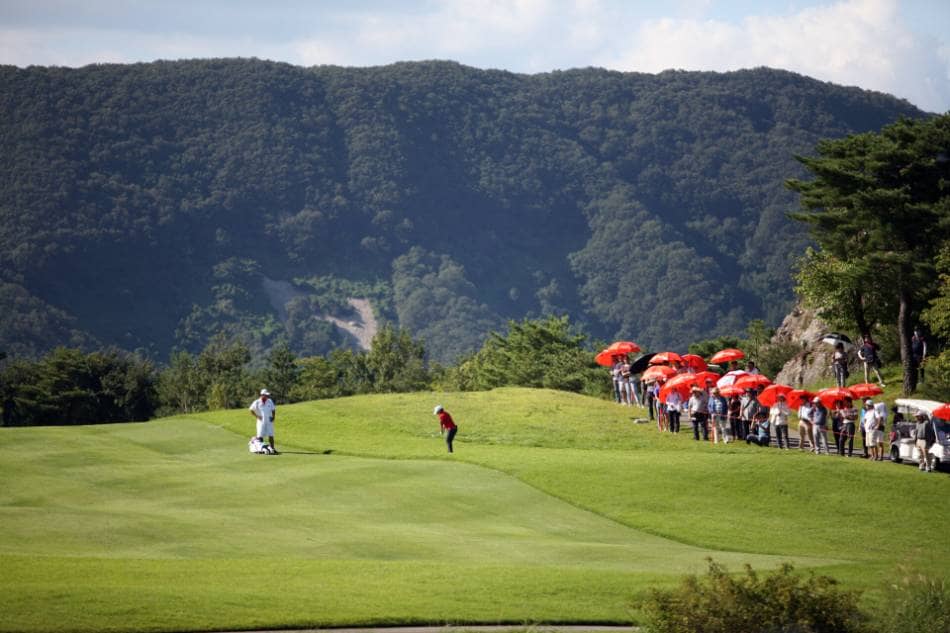 Professional golfing has become a quite lucrative sport over the years with players netting millions of dollars each season from winning various tournaments. However, professional golfers must pay some of the hardest-working people in golf – the caddies.
So, how much do caddies make in golf?
A caddy at the local country club can make $20 an hour plus a tip for a round of golf, whereas a caddy for a professional golfer can make $3,000 plus a winning percentage from a four-day tournament. A caddy can either be paid hourly or paid at a tournament rate, depending on the golfer's talent level.
A caddy's income ultimately depends on the respective golfer's level of play. Professional caddies can command a competitive market with many different perks while beginner caddies live for the large tips. We'll break down each type of caddy's income soon enough, but first things first – what exactly is a caddy and what do they do?
What Is a Caddy in Golf?
A golf caddy is responsible for carrying a player's golf bag and clubs, while also giving the player advice on situations throughout the round. A caddy is well-versed on the respective golf course and can assist a golfer in club selection, overall yardage, and reading green angles.
Many will agree that 'caddy' is a different term and not something that would be associated with any sport, let alone golf. Nevertheless, caddies have been around golf courses for centuries.
So, where did the term 'caddy' originate? Historians believe Mary, Queen of Scots, coined the term 'caddy' in the late 16th century. Growing up in France, Mary became accustomed to military cadets carrying golf clubs for royal families. While nothing is certain, it's possible she brought the term to Scotland during her rule because of those cadets.
What Do Caddies Do?
Contrary to popular belief, a caddy does more than just carry golf clubs or drive a golf cart for their golfer. Caddies are an additional resource that can be invaluable to any golfer.
Yes, caddies are responsible for carrying a golfer's bag of clubs throughout the round. However, caddies must ensure that the clubs are clean and well taken care of.
Caddies often carry different types of towels and cleaning products for a variety of objects, whether it be clubs or golf balls – and yes, many caddies that make sure the ball is clean before the golfer tees off at each hole!
The caddy also keeps the clubs organized within the bag. Typically, a golfer doesn't have to ask for a particular club. The caddy is accustomed to the golf course and situation at hand, and he/she knows what club to recommend.
Therefore, the golf caddy provides knowledgeable recommendations for the golfer. This relationship is a valuable dynamic that, at times, can go unnoticed and be underrated when considering a golfer's success on the course.
As a golfer and their caddy play more and more rounds, the two develop a relationship and an understanding of each other. During this time, the golf caddy becomes familiar with how the golfer's tendencies. This is extremely important to the relationship and arguably the most important role of a caddy.
Each golf course is different and littered with unique layouts from start to finish. A caddy must know the course his golfer is playing extremely well. This takes studying and several practice rounds to get familiar with a respective course.
The distance to the green is one of the most important things a caddy needs to know. No matter where the ball lays, the caddy must be able to utilize distance markers on the course to give a proper estimate of the distance. He or she must also be on top of the green angles and know when and where a ball will break.
Some more physical duties of a caddy include raking sand traps and bunkers and fixing divots in the grass. After a golfer's swing, it's imperative that the next golfer play under the same conditions as the previous one.
How Much Do Caddies Make on the PGA Tour?
PGA Tour golf caddies are handsomely rewarded for their efforts on the PGA Tour, especially those that excel at their job. According to former PGA Tour caddy Michael Collins, there is a consensus salary and award purse for golf caddies across the PGA Tour.
"Every caddie gets a weekly paycheck, no matter where his player finishes… If the player misses the cut, the caddie still has to get a paycheck because the caddie pays for all of his expenses – airfare, hotel, car, food, all of it," Collins explained to Insider.com.
Golf caddies are also entitled to a bonus if their player makes the cut in a tournament. That's where they can make serious money. If a golfer wins a tournament, they receive 10 percent of the winnings. A top 10 finish yields seven percent of the winnings, while anything above the cut line is five percent.
A caddy's weekly salary varies from player to player, but on average, a caddy receives $1,500 to $3,000 a week. Some PGA Tour caddies will negotiate for a higher weekly payout and lower percentages on winnings, and others will request for their travel and lodging costs to be covered. It's something that each golfer and caddy negotiate themselves.
Much like PGA Tour golfers, caddies are also entitled to sponsorships from companies. A caddy can receive specific apparel and/or money from entities in exchange for wearing their product. This usually comes from a caddy wearing a particular hat or shirt with a company's logo during a weekend of golf.
How Much Do Golf Caddies Make an Hour?
Not every caddy works professionally on the PGA Tour. There are plenty of average, everyday caddies that work on the weekends at the local country club for an hourly wage.
According to ZipRecruiter, the current hourly rate for a caddy is $15.65 per hour. This can change depending on experience. Beginner caddies make around the $10.82 mark, while veteran caddies can demand double and triple that number.
Golf caddies can also be rewarded for tips after each round of play. Common courtesy says to tip a caddy anywhere from 40 to 50 percent of the green fee.
So, if 18 holes cost $60, a caddy should be tipped between $24 and $30. If a golfer is impressed by the caddy's effort and work ethic, that number can increase.
How Much Do Caddies Make at the Masters?
The Master's Tournament is one of the most historic golf tournaments in the world, and the best golfers from all around the world converge in Augusta, Georgia in April each year to compete for the Master's green jacket, which is awarded to the winner of the tournament.
The Masters is one of four majors on the PGA Tour. A major is referred to as the major championships on the PGA Tour. As expected, these are usually the highest paying events for the winners.
In 2021, the prize pool fund for the Masters was $11,500,000. Hideki Matsuyama, a Japanese golfer who won the event, brought home $2,070,000 in winnings. This means if Matsuyama's caddy had an agreement for 10 percent of the winnings, he would have earned $207,000 from the Masters alone! A simple golf outing at the Masters could not only change the career trajectory for a golfer, but also that of a caddy.

This means if Matsuyama's caddy had an agreement for 10 percent of the winnings, he would have earned $207,000 from the Masters alone! A simple golf outing at the Masters could not only change the career trajectory for a golfer, but also that of a PGA Tour caddy.
How Much Do Caddies Make at Country Clubs?
Many students will work at country clubs during the summer to earn some extra cash in their pocket. The reason behind this is the amount of money one can make for a day's work.
For most players, 18 holes of golf can be completed in around 4-5 hours. Going back to the previously aforementioned hourly rate of $10.82, a youngster in high school could make $50 for five hours of work, plus tips. At exclusive country clubs, which cater to players with deeper pockets, that number can easily double.
Who Is the Highest Paid Golf Caddy?
If a professional caddy can find the right golfer on the PGA Tour, he can make quite a living carrying clubs and sharing his golf course knowledge.
Just ask Jimmy Johnson, who caddied for professional golfer Justin Thomas. After a successful season in 2020, Johnson earned over half a million dollars with $502,851 from winnings. Not bad for a guy deemed a 'sidekick' by most.
Shortly after the conclusion of the 2021 season, Thomas announced that he and Johnson had agreed to part ways, ending Johnson's six-year run as Thomas' caddy. Johnson has caddied for a handful of other notable players on the PGA Tour, including Steve Stricker, Charles Howell, and Adam Scott.
Below is a table of the highest-paid caddies on the PGA Tour from 2020, courtesy of Southampton Golf Club:
| | | | |
| --- | --- | --- | --- |
| RANK | CADDY NAME | PLAYER NAME | YEARLY PAYOUT (2020) |
| 1 | Jimmy Johnson | Justin Thomas | $502,851 |
| 2 | Jonathan Jakovac | Collin Morikawa | $486,825 |
| 3 | Austin Johnson | Dustin Johnson | $472,600 |
| 4 | Paul Tesori | Webb Simpson | $417,595 |
| 5 | Adam Hayes | John Rahm | $374,625 |
| 6 | Tim Tucker | Bryson DeChambeau | $353,801 |
| 7 | Kessler Karain | Patrick Reed | $346,500 |
| 8 | Josh Cassell | Daniel Berger | $343,470 |
| 9 | Matt Kelly | Marc Leishman | $330,100 |
| 10 | Albin Choi | Im Sung-jae | $278,085 |
How Much Does Tiger Woods Pay His Caddie?
Tiger Woods dominated the PGA Tour in the early 2000s, racking up win after win and purse after purse in the process. One of the biggest beneficiaries of that incredible run was a caddy, Steve Williams.
Williams, who caddied for Woods from 1999-2011, is one of the most notorious caddies in golf history. Fortunately for him, he made more than the typical five percent that caddies make on the PGA Tour. Williams had an arrangement with Woods that earned him 15 percent of tournament winnings.
It's believed that Williams earned more than $12 million dollars during his caddying tenure with Woods. Woods also gifted him with several vehicles that were won at tournaments.
In 2007, Williams earned $1.4 million dollars in commission alone, more than many professional golfers that season, let alone caddies. To this day, Williams' net worth is $20 million, and much of that is because of the successful partnership between Woods and himself.
How Much Does Phil Mickelson's Caddy Make?
Longtime Phil Mickelson caddy Jim 'Bones' Mackay retired in 2017 after a 25-year partnership with the future Hall of Famer. Fortunately for 'Lefty,' he didn't have to look too far to find a replacement.
Mickelson hired his younger brother, Tim Mickelson, to command his bag while in action. The younger Mickelson enjoyed a successful coaching career prior to becoming a full-time caddy. He coached then No. 1 ranked amateur Jon Rahm at Arizona State, and before that, he was the golf coach at the University of San Diego for eight years.
During his time as Mickelson's caddy, Mackay earned anywhere from $500,000 to $1 million per year. It's doubtful that Tim gives his brother a family discount while he carries the clubs. Tim's estimated net worth is between $1 million and $9 million.
Related Articles