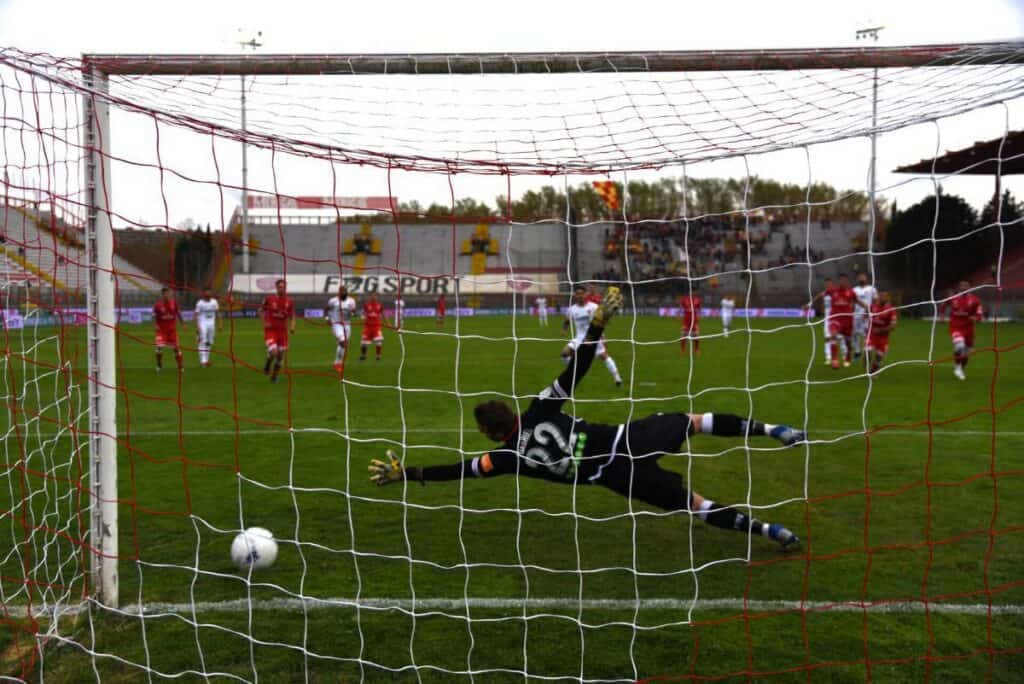 If you are a casual soccer fan you may come to find that there is a whole language of soccer jargon that can be hard to decipher. Today we will explore the term "hat trick"—one of the most electrifying occurrences in soccer that can bring even the most casual fans to their feet.
So, what is a hat trick in soccer?
A hat trick in soccer is when one player scores three goals in the same game. In a sport where goals come at a premium, netting three goals in one game is a remarkable feat. Earning a hat trick can be seen as one of the holy grails for professional and amateur soccer players around the world.
Hat tricks are as straightforward as they sound—one player, three goals—but throughout the rest of this article, we will also cover the absolute specifics of hat tricks, their variants, origins, and some hat trick history.
What Is a Hat Trick in Soccer?
Understanding what a hat trick is, is vital to being a bona fide soccer fan and is a good start to building your soccer knowledge. It is one of the most common terms in soccer that you will continuously hear as you dive deeper into the sport.
Like any sport, soccer is chock-full of specific terms for just about anything from the teams and leagues to certain plays and skill moves.
Soccer is also one of the most comprehensive sports and has leagues all around the world, different domestic cup finals, multiple European championships and not to mention all the international competitions like the World Cup.
So if things start to get confusing just remember there is a learning curve that eventually you will surpass.
As stated previously, a hat trick is only attained when the same player scores three goals in one game. This is important because it is not classified as a hat trick if one player scores two goals and one assist, or any other variant of the two. It must be the same player in the same game.
The goals do not have to be scored consecutively; they can be scored in regular time, injury time, extra time, or through a penalty kick, but penalty shootouts are excluded from prestigious hat tricks.
However, a hat trick comes at a price because obviously, every attacker is on the hunt to score goals. Personalities can sometimes clash when you have some of the best players around the world who are all jockeying to put the ball in the net.
There is a delicate balance that players must work through between scoring goals and keeping their teammates happy and winning. With the latter being the most important to the coaches, fans, and players.
In addition, strikers are the first ones who are praised when the club is doing well and scoring goals. Conversely, they are often first on the list of players to blame when things are not going right for the club, and scrutiny comes in heaps from club supporters if the players are not in form.
Hat tricks are exceedingly rare because the level of professional soccer is so high, and it is a massive honor to score three goals when it is extremely difficult to score just one.
For players to earn a hat trick, they most often capitalize on their opportunities when sometimes they run so thin. It is truly feast or famine when it comes to goal scorers.
Why Is it Called a Hat Trick?
While a hat trick is a staple in the soccer world, the roots of the term date back to 19th-century cricket. According to Merriam Webster, it originated from British cricket.
It was originally coined when a bowler (the pitcher) retired three consecutive batsmen with three consecutive bowls (pitches). The first time this happened, the legend of the hat trick was born.
The first hat trick was not really considered the first hat trick until the team got together and bought the bowler a new hat for his achievement. This was a crucial moment in sports history that would affect many major sports.
The hat trick phenomenon soon became popular in the cricket world and quickly grew into other sports' culture.
After time, the term was then applied to many different sports indicating that a player had three successes—usually in the form of goals.
For example, it has been applied to hockey and lacrosse in a similar fashion where a player achieves a hat trick by scoring three goals in the same game. This sparked the hockey tradition where fans throw hats onto the ice when a player scores a hat trick.
A direct result of the very first cricket hat trick.
After the term gained popularity in cricket and soccer, it went on to be loosely used in baseball when a player strikes out three times in one game, handball, rugby, water polo, and even in the mountaineering world when a person climbs three of the famous peaks over 8,000 meters in altitude.
The important thing to remember here is that good things come in threes when talking about hat tricks.
What Is a Perfect Hat Trick?
You may be thinking "I thought a hat trick was perfect? How can three goals in one game get any better?!" In the soccer world, things can always get better.
You will come to realize that soccer players, fans and anyone involved with the game are perfectionists. Each soccer generation after the next is endlessly trying to one-up the last. It is a never-ending chase that continues to produce better and better players throughout the world.
So what exactly is a perfect hat trick, and how can it possibly get any better?
The first thing to know about a perfect hat trick is that it still involves one player scoring three goals, but it is how the player scores them that makes it a perfect hat trick.
A perfect hat trick entails that one goal is scored with the left foot, one goal is scored with the right foot and one goal is scored with the head. These soccer perfectionists leave no room for error.
In one of the most recent perfect hat trick performances, Christian Pulisic, the American winger who plays for Chelsea, had an electrifying game that included a no-look header to solidify his perfect hat trick. There is no doubt his performance cemented him into the history books.
Who Has the Most Hat Tricks in Soccer History?
When you think of players who can score hat tricks what skills do you imagine they have?
Of course, you need speed, power, great ball skills, an eye for the goal, and all the other attributes that great soccer players have.
But what else is missing from this goal-scoring equation? Something separates the good soccer players from the great ones and the great ones from the superstars. It is hard to come by. One could say generational talent.
Something so special that it is truly indescribable. You must witness it to fully understand the magic. They just have it.
Are they human? Do they have a special power that makes them superior to us mere mortals? Maybe that is what allows them to do the unthinkable.
And when you look at the names on the list of most hat tricks that is exactly what you see. Generational talent that cannot be taught, but only given by the soccer gods.
The all-time hat trick list is a star-studded lineup that includes the current greats Cristiano Ronaldo, Lionel Messi, and Luis Suarez, but surprisingly it is not any of these modern players who hold the esteemed title of the player with the most hat tricks.
The only player who can call himself the hat trick king is the Brazilian master with 92 total hat tricks in all competitions—Pele. No one has yet to catch up to the all-time greatest scoring machine, and it is possible that no one ever will. It is a ridiculous tally that will take someone special to break this record.
The Brazilian soccer style is known for its fast-paced and free-flowing gameplay that is often referred to as 'samba.' No doubt this playstyle gave Pele the freedom to use all of his natural ability. It is an inspirational sight watching the black and white highlight reels of Pele as he effortlessly eases past defenders and calmly sticks the ball in the back of the net.
It is important to remember the pioneers of the game and Pele is one of them, inspiring generation after generation of players.
On the other hand, European countries have a more rigid and conservative playstyle that can sometimes constrict players to a more defensive and traditional role.
According to Sportskeeda, the two next hat trick princes are the Portuguese wonder, Ronaldo, with 57, and the elusive Argentine Messi with 54. Yet, with both of their totals combined they barely top Pele.
Is Pele's record untouchable? Will there be another player as prolific as him?
The world will just have to wait and watch.
Who Had the Fastest Hat Trick in Soccer History?
When it comes to scoring hat tricks, speed is usually the last thing on the players' minds, but there are a few instances where hat tricks were scored nearly in the blink of an eye.
According to The 18, the record time to a hat trick is an astonishing 1 minute and 10 seconds scored by Alex Torr in 2013. At the time, Torr was in the Sheffield Sunday League which is a lower division league in England. However, that should not take anything away from this spectacular performance.
Other notable lightning-fast hat tricks include Sadio Mane in 2 minutes and 56 seconds in the English Premier League, Balde Keita in 6 minutes in the Italian Serie A, and Robert Lewandowski in 4 minutes in the German Bundesliga—where he ended up netting 5 goals that game.
FAQ
What Is Four Goals in Soccer Called?
In addition to a hat trick, there are also names for scoring more than a hat trick. When a player scores four goals it is referred to as a haul.
Perhaps one of the most memorable and recent hauls is when Borussia Dortmund's Robert Lewandowski put on a clinic in the first leg of a Champions League knockout game against Real Madrid in 2013 where Dortmund went on to upset the Spanish powerhouse.
What Is Five Goals in Soccer Called?
Five goals in one game is a glut.
In 2012 Lionel Messi had one of the most prolific scoring games in Champions League history. Bayern Leverkusen became a victim to Barcelona's vicious attack where Messi scored a glut.
That night no one in the world could have defended the little Argentine. He—and Barcelona—had surpassed all expectations, but words cannot do this exquisite performance justice. You must see it with your own eyes.
What Is Six Goals in Soccer Called?
Six goals is appropriately named a double hat trick. The list for double hat tricks around international competitions and domestic competitions is quite small with many of them being in lesser divisions or from before the age of modern soccer in the 30s, 40s, and 50s.
However, there have been some sensational double hat trick performances by Eldar Hadzimehmedovic in a Europa League knockout round in 2003, Edmundo in 1997 for Vasco da Gama in a Brazilian domestic game, and of course Pele who scored 8 goals in 1964 for his home club Santos in Brazil.
Related Articles