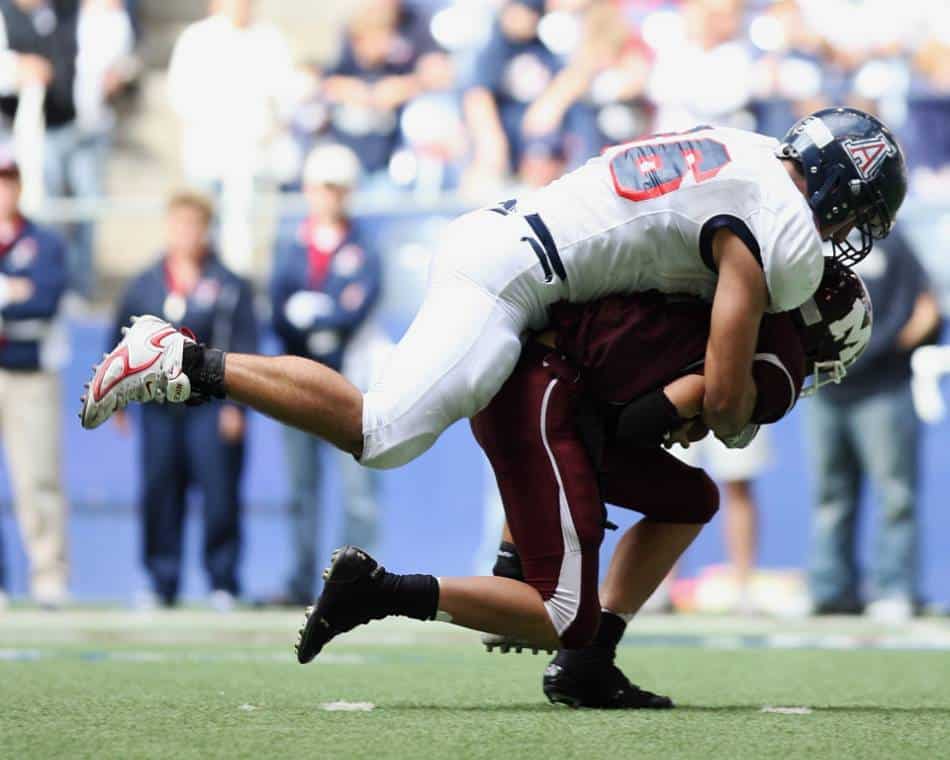 In football, there are few things on the defensive side of the ball that are more exciting than sacking the quarterback (QB). It fires your entire team up, it fires up the fans and it puts your opponent in a tough position. If you're looking for a momentum-changing play, this is it.
So, what is a sack in football?
A sack in football is when a defender tackles the quarterback behind the line of scrimmage while the quarterback is holding the ball. Sacks result in a loss of down and yardage. Sacks are most likely to occur during a blitz — when the defense sends extra players to rush the quarterback.
There are a lot of things to understand about sacks including the history behind the term, the various rules that constitute what a sack is and how players have made a name for themselves by sacking QBs for years.
Don't worry if this sounds too confusing, we're going to break all of it down for you!
History of the Sack in Football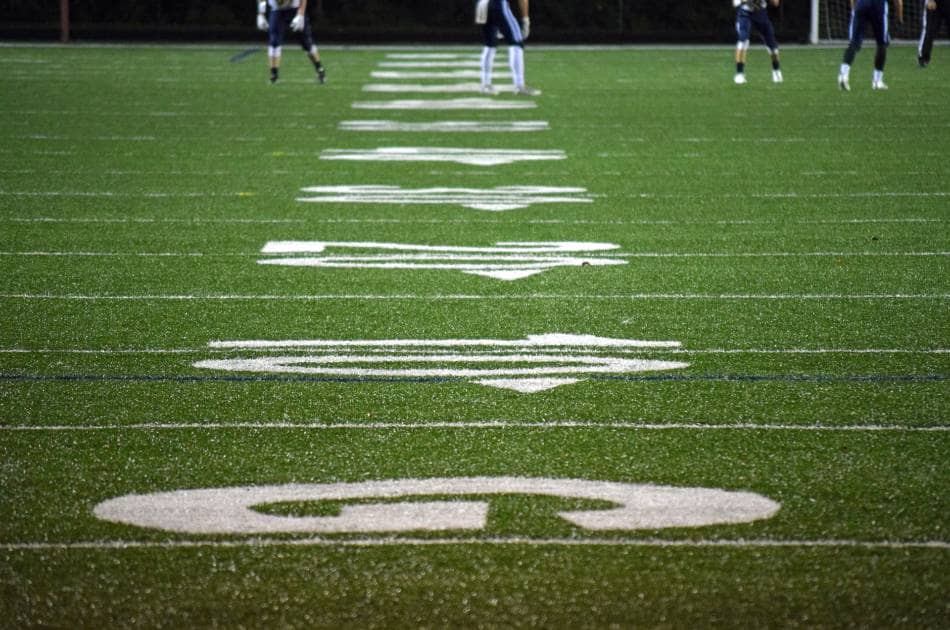 Sacks have been in the NFL for as long as we can remember. While they've always been a defense's delight and an offense's nightmare, many football fans are unaware of where the term 'sack' came from.
According to the Merriam Webster dictionary, a 'sack' is defined as "a usually rectangular-shaped bag." If that's true, then what does it have to do with the term 'sack' in football?
It might seem far-fetched, but these two variations of the same term are more closely related than you think.
It was David 'Deacon' Jones, a Hall of Fame defensive lineman in the NFL and one of the most prolific sack artists in NFL history, that made the term famous in the game of football.
He started using the term after hearing his coach — George Allen — use it during one of his motivational speeches.
Allen was prepping his team for a game against the Dallas Cowboys, who were equipped with Craig Morton as their starting QB.
To hype his team up, Allen famously said, "Before we play those Dallas Cowboys, we're going to take that Morton salt and pour him into a sack."
Jones saw this as an opportunity to run with a new term that eventually stuck. Jones started to use the term frequently to describe what was once called "tackling the QB for a loss." Here's his reasoning for coining the term:
"Sacking the quarterback is just like you devastate a city or you cream a multitude of people…It's just like you put all of the offensive players in one bag and I just take a baseball bat and beat on the bag."
To take this history lesson even further back, the NFL used to use the term 'dump' instead of 'sack.' In fact, the NFL wasn't tracking the number of times a QB was tackled for a loss until 1961. Even then, the defensive players weren't given credit — something that started in 1982.
Because of this, tracking the number of sacks a player had before 1982 is rather difficult.
The Rules Behind Sacking the Quarterback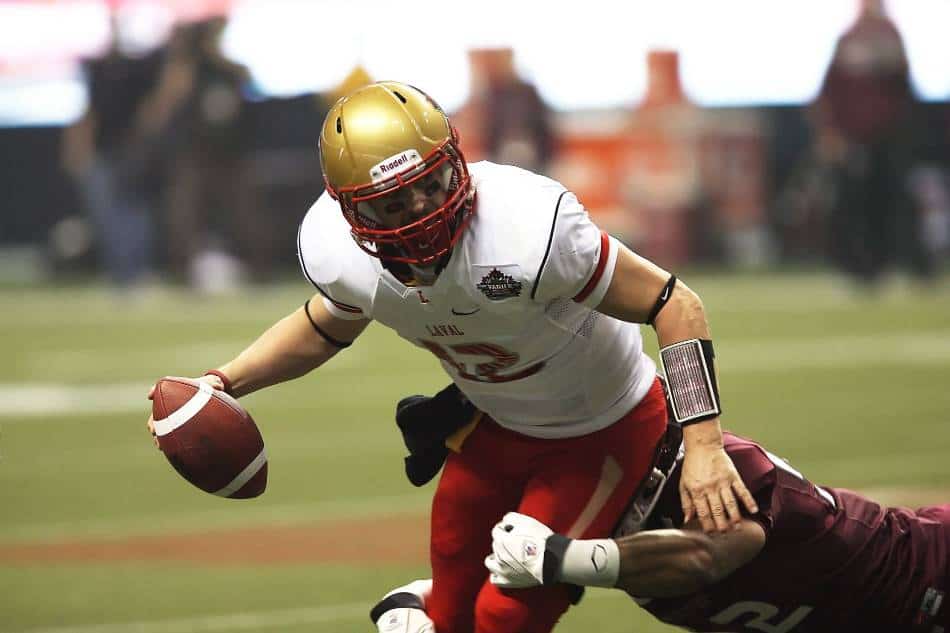 A sack might seem straight-forward in football, but there are plenty of things that can either disrupt the play from happening or negate a sack that already happened.
That's why you'll often see players wait before celebrating a sack, to ensure the play stands without a penalty being called.
We should understand by now that a sack occurs when a defender tackles the QB behind the line of scrimmage.
This is a rather vague description, however, since there are certain instances where the QB is tackled behind the line of scrimmage and it's counted as a run for a loss.
For it to count as a sack, the QB has to either be in the pocket or out of the pocket during a pass play. If a play is designed to be a run for the QB and he's tackled behind the line of scrimmage, it counts as a run for a loss instead of a sack.
Let's take a look at some things that can prevent a sack from occurring:
Offensive linemen do a good job of blocking, giving the QB enough time to find a receiver.
If there isn't an open receiver, the QB can run the ball past the line of scrimmage for a gain.
In the event the QB can't find a receiver, he can perform a backward pass to another player to keep the play alive.
The QB can also break free from the player trying to sack him, giving himself more time to find a receiver.
If the defense commits a penalty on the same play a sack happens, the sack is negated.
The ball can also be knocked loose during a sack. If the QB drops the ball before his knee or arm touches the ground, it counts as a fumble — which gets recorded as a 'strip-sack' by the defense.
Stripping the football in this way allows the defense to recover the ball and gain possession.
If the sack occurs in the offense's end zone, the play counts as a safety and the defense gains possession of the ball via a kickoff.
There's also such a thing as a 'half-sack,' which gets recorded as 0.5 sacks on the stat sheet. This happens when two players are credited with the same sack, which is more common than you'd think.
Instead of giving both players one sack in the stat sheet (and having it count as two sacks against the QB), they give each player 0.5 sacks.
After a sack occurs, the ball is placed wherever the QB was ruled down with the ball. If it was first, second or third down, the offense will get the ball back and go from there.
If it was on fourth down, the offense surrenders the drive and it goes into the books as a turnover on downs.
NFL All-Time Sack Leaders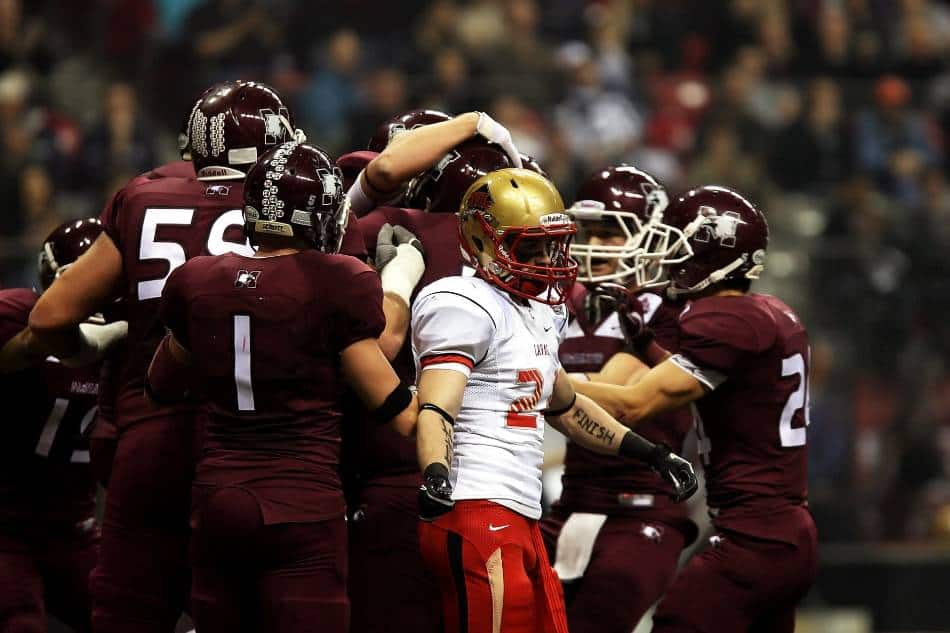 Although we see sacks happen every week in the NFL, multiple players stick out as some of the best sack artists of all-time.
A majority of them spent their playing time at defensive end, but there are some defensive tackles and outside linebackers that fit into the mix as well.
Let's take a quick look at the top-ten NFL all-time sack leaders, according to ESPN:
Bruce Smith – 200 sacks
Reggie White – 198 sacks
Kevin Greene – 160 sacks
Julius Peppers – 159.5 sacks
Chris Doleman – 150.5 sacks
Michael Strahan 141.5 sacks
Jason Taylor – 139.5 sacks
Terrell Suggs – 139 sacks
Demarcus Ware – 138.5 sacks
Richard Dent / John Randle – 137.5 sacks
While all of these players are either defensive linemen or linebackers, that's not to say other defensive positions don't get sacks — they just don't occur as often.
Throughout the 2019 season, for example, Jamal Adams (strong safety) ranked 52nd in the entire NFL with 6.5 sacks. Logan Ryan (cornerback) ranked 86th with 4.5 sacks.
Of the players listed above, only one of them is still active today, Terrell Suggs — though he's a free agent looking for a team.
Behind him, there are only two other active players with more than 100 sacks: Von Miller has 106 sacks and Cameron Wake has 100.5 sacks.
With the way linebackers are seeing more action on the defensive line, we'll continue to see hybrid sack artists develop in the NFL like Wake and Miller.
Most Sacks in a Game and Season of Football
Now that we took a look at the career leaders in sacks, let's take a look at some of the more outstanding game and season performances we've seen in the NFL. Again, all statistics date back to 1982, which is when sacks started being recorded.
When looking at single-game performances, five players have recorded six or more sacks in a single game.
Only one of those players managed to achieve seven sacks — Derrick Thomas in 1990 — while the other four players — Adrian Clayborn (2017), Osi Umenyiora (2007), and Fred Dean (1983) — were all tied at six sacks.
Willie McGinest set the record for most sacks in a playoff game in 2006 when he finished with 4.5 sacks against the Jaguars.
If we were to turn our focus to season-long performances, no player has recorded more sacks in one season than Strahan in 2001 with 22.5 sacks.
Hitting the 20-sack mark is an incredible milestone and has only happened five times in the past 10 years.
Three players have managed to record 22 sacks in a season, falling 0.5 sacks short of tying Strahan's record. Those players are Jared Allen (2011), Mark Gastineau (1984) and Justin Houston (2014).
If we look at playoff-long performances, three players have a total of six sacks throughout the playoffs (one season). Michael McCrary achieved it in 2000, LaMarr Woodley achieved it in 2008, and Richard Dent achieved it in 1985.
Related Articles