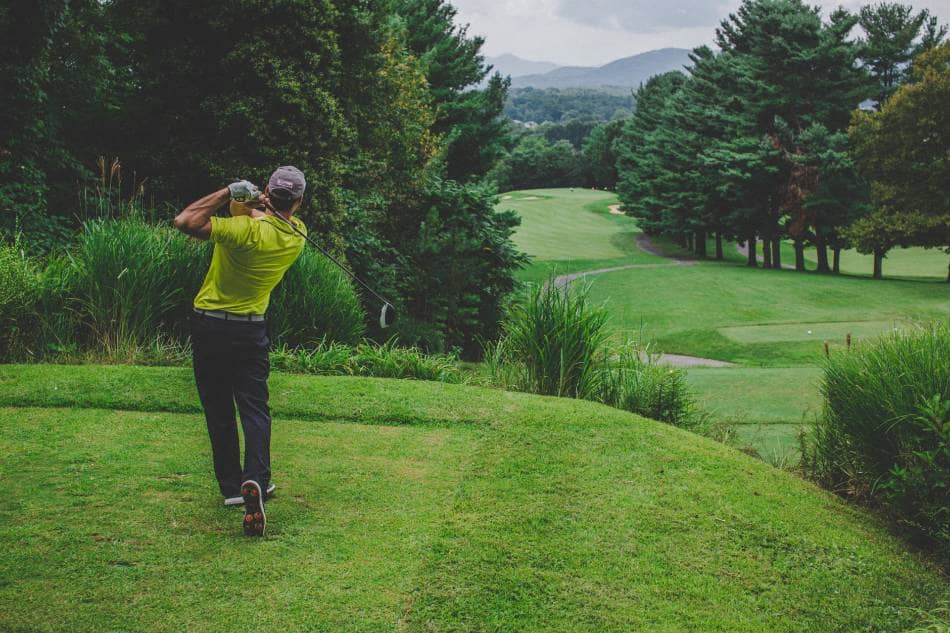 It's 4 p.m. on a Friday and your boss asks you to play in a golf tournament on Monday morning. The team needs a fourth player and despite your lack of experience playing golf, your boss assures you it will be fun to get out of the office for a day.
Knowing the alternative is listening to your coworker Karen tell you about her weekend with her cats, you quickly say yes. Nervous about the impending commitment, you scour the internet to prepare for your day on the course. Well, chances are you've just signed up to play in a golf scramble.
So, what is a scramble in golf?
A scramble is a golf format that requires 2-4 players per team and is used for tournaments and charity events. Each team member tees off and then the best shot is selected. All members then take their next shot within one club-length of that spot. This process is repeated until the ball is holed.
A scramble is a common team format designed for players of all abilities. Most scrambles are designed as charity fundraisers benefiting non-profit organizations, youth sports teams, and churches. With that said, there's much more that goes into playing in a scramble format.
What Is a Scramble in Golf?
A golf scramble is a common team tournament format consisting of 2-4 players. Utilized by many businesses and non-profit organizations, scramble tournaments can be a great way to raise money or thank clients and vendors for their business.
Scrambles can be a perfect way to introduce newcomers to the game of golf while giving back to the community and building rapport with your business associates.
The biggest advantage of competing in a scramble format for the novice golfer is players of all abilities can contribute to their team's success. For beginner golfers, the pressure to keep your score in a normal round of golf can be daunting and sometimes embarrassing.
In the scramble format, a bad shot is just a bad shot and other members of the team have equal opportunity to execute a better attempt. Chances are at least one member of the scramble team has an intermediate level of golfing experience and will provide less-experienced teammates with tips and advice throughout the round.
Golf Scramble Rules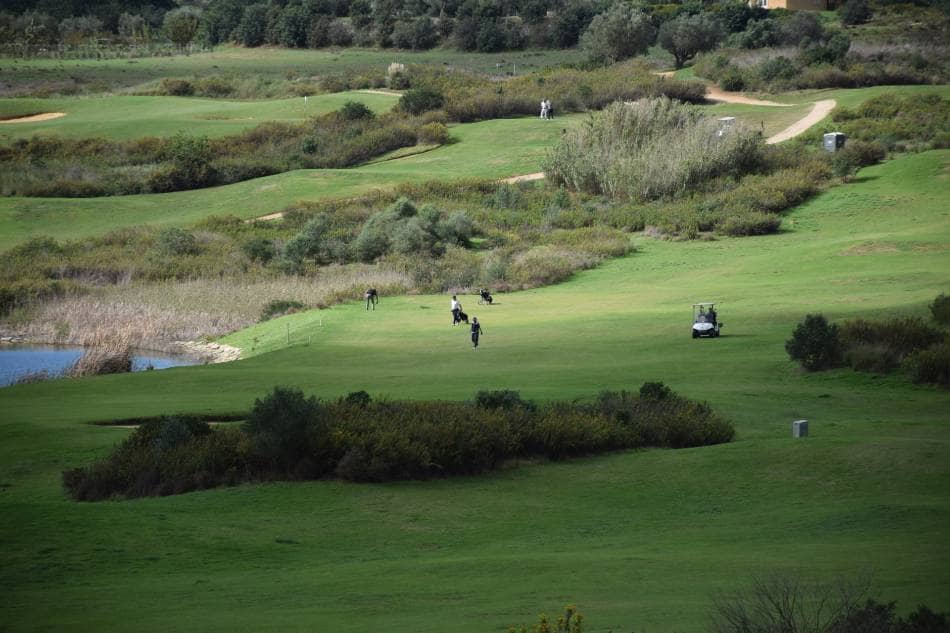 Scramble teams consist of 2-4 players, with one player nominated as the team captain. Each member of the team will hit a tee shot and it's the captain's job to select the best tee shot.
Each member will then hit a shot from that spot (within one club length) with the captain again selecting the best of the bunch. The team will repeat this process until the ball is holed, for every hole played, recording only one score for the team per hole.
Men, women and seniors typically play from different tee boxes with women and seniors teeing off from shorter distances.
2-Person versus 4-Person Golf Scrambles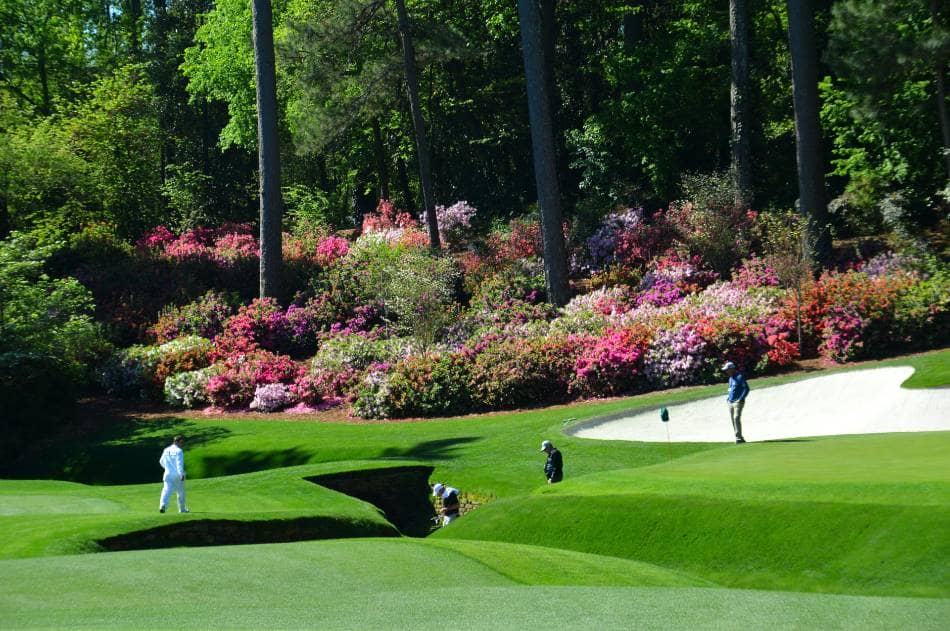 Both 2-person and 4-person scrambles employ the same rules: the team members hit a tee shot, the best shot is selected, the team plays their next shot (within one club length) from that location and repeats the shot selection process until the ball is holed.
The main difference is that a 2-person scramble format incorporates each player's handicap into their team score while 4-person scramble does not.
To calculate a team's handicap in a 2-person scramble format, simply add 35% of the best player's handicap to 15% of their partner's handicap to determine the number of allotted strokes during the golf tournament.
What If My Scramble Team Has 3 Players?
Oftentimes outside circumstances do not allow for every member of a 4-person team to show up to the scramble tournament. In such instances, certain adjustments can be made to account for the missing member.
Simply rotate which player will hit a second ball for each of the team's shots during play of each of the holes.
Golf Scramble Strategy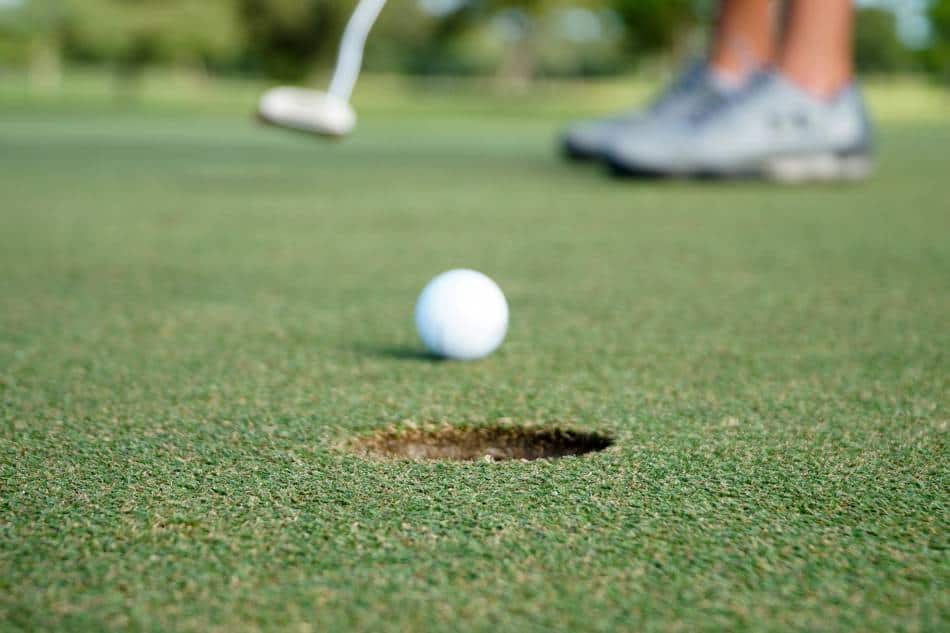 In golf, the lowest score wins and it is easy to shoot a low score in a scramble format with scores regularly approaching the mid-50's on a par 72 golf course.
Here are some simple strategies you can employ to give your team the best chance to win:
Bring in a Ringer – Know someone that has a single-digit handicap or played college golf? Invite them to play on your team to make sure you have someone that hits the ball straight, far and with accuracy.
Women and Seniors Have Significant Advantages – Women and seniors usually play shorter tee boxes meaning they have less distance to cover on the hole from the tee box to the putting green. A woman that can drive the ball 200 yards on a 230-yard par-4 hole gives the team a significant advantage to make a better score for the hole.
Buy the Maximum Amount of Mulligans – The more mulligans you have, the more do-overs you get. Be aware however that most scramble golf tournaments limit the number of mulligans that can be purchased by each team. And heck, the money you pay for mulligans goes to a great cause so pony up the cash!
Limiting the Playing Field
To keep teams from stacking the deck and winning the golf tournament, scrambles can employ different rules to limit cheating or large margins of victory. Here are some ways to mix things up via golftips.golfweek.com:
Minimum Number of Tee Shots Required – With this rule, each team must use at least two drives from the team members. Players must muster up the ability to hit two quality drives per round.
No Two Consecutive Shots May Be Counted by a Single Player – Here, the team cannot rely on their ringer to play every shot on one hole. This is where strategy comes into play and the team captain must figure out individual strengths and abilities to achieve the best results for the team.
What to Expect at a Golf Scramble
Entry Fee – Golf scrambles offer several ways to participate. Individual spots or entire teams can be purchased and entry fees typically include food and beverage, driving range use, greens fee, cart fee and tee gift. Charity scrambles will sell teams at varying sponsorship levels that provide differing levels of marketing opportunities for businesses, from sponsoring a hole to title sponsorship of the tournament.
Time Constraints – Plan for the scramble tournament to take all day. Most scramble tournament rounds last a minimum of 5 hours and start in the mid-morning, between 10 a.m. and noon. You should arrive 30-60 minutes early to check-in at registration, grab your goodie bag, hit some practice shots and spend time networking with other players. Allot an additional 60-90 minutes after the tournament for an awards banquet and time for all teams to finish playing before the awards ceremony begins.
Monday Funday – Monday is the most popular day for a golf course to host scramble golf tournaments because it's the least busy day of the week. Private country clubs are usually closed to member play on Mondays, allowing them additional revenue opportunities to host large events like charity scramble golf tournaments.
Shotgun Start – A 'shotgun start' is a term used to signify that every golfer will start and finish the tournament at roughly the same time. Shotgun starts fill the entire golf course at once, compressing the amount of time needed to complete the tournament. Each team will start on a different hole unless the tournament is big enough that multiple groups will start on the same hole. Historically, a shotgun was used to signify the start of the tournament, now an air horn is used for teams to start play when they get to their hole. For example, a team that starts play at the designated shotgun starting time (i.e. 10:30 am) on the 14th hole will finish the tournament on the 13th hole.
# of Players – Scrambles will have anywhere from 52-144 players broken down into teams of 2-4 players. Most courses can't accommodate more than 144 players which means each hole will have 2 groups per hole (36 teams, 18 holes). Heavy course congestion leads to longer playing times of over five hours.
Food and Beverage – Scrambles are an all-day affair so expect to be fed multiple times. It is common for scramble golf tournaments to incorporate continental breakfast and coffee beforehand, boxed lunches during the tournament and an awards banquet afterward. Food and beverage are usually included with the entry fee but be sure to review all information beforehand so you know whether to bring snacks to eat or cash to purchase provisions.
The Beer Cart – Since scrambles require players to spend time waiting on the group in front, oftentimes scramble tournament organizers will pay for beverage carts to circulate the golf course to provide liquid refreshment to players to ease tension, lighten the mood and grease achy, stiff backs. It's always good to have cash or a credit card on hand in case drinks aren't covered by the tournament organizers. Remember to maintain your composure in front of your peers and business associates and don't drink too much. This is not the time to show how proficient you are at chugging a beer.
Dress Code – Scrambles are held at public and private golf courses, with private facilities enacting stricter dress code policies. Dress comfortably for the day and play it safe by wearing a collared shirt tucked into golf shorts, pants, skirts or skorts. Avoid denim and t-shirts and wear comfortable athletic shoes if you don't own golf shoes.
Safety and Course Care – Bring sunscreen and bug spray. Drink lots of water. Give your teammates plenty of room to swing to avoid getting hit with a club or an errant golf shot. Follow all cart restrictions provided by the golf course and be sure to leave the course in better shape than you found it (fill your divots with sand, repair ball marks on the putting green, and rake footprints in the bunkers).
On-Course Contests – Scrambles provide many opportunities to win prizes including golf equipment and gift certificates. Here are some of the fun side contests you can expect in your day on the golf course:

Longest Drive Contests: Here the goal is to hit the ball as far and as straight as possible. Keep the ball in the fairway though as anything in the rough will not count. Longest drive contests are split among men and women since they each play from different tee boxes.

Closest to the Hole Contests: Reserved specifically for Par 3 holes, the goal is to hit the ball closer to the hole than anyone else. Proximity markers are used to measure the distance to the hole and be sure to write your name and the distance to the hole on the card provided.

Hole in One Contests: A charity scramble regular, many car dealerships team up with scramble tournament hosts to offer the opportunity to win a new car with a hole-in-one on one of the Par 3's. Keep in mind the odds of getting a hole in one are 12,500 to 1. Swing away but temper your expectations.

Equipment – It's okay if you don't own golf clubs, balls or shoes. Many courses offer rental clubs and your tournament organizers or boss may even pick up the cost of a rental set for you. Some rental sets include golf balls but the cheapest dozen golf balls will run $15-20. Wear athletic shoes (if you don't own golf shoes) and buy a golf glove to keep your appendages blister-free.
Tee Gifts and Goodie Bags – Logoed swag is the name of the game at a scramble. From water bottles and t-shirts to golf balls and hats, expect to receive many corporate-branded tchotchkes when you arrive at the tournament.
Mulligans, Raffles and Silent Auctions – A mulligan is a term in golf for a free shot to replace any miscalculated or terrible shot. Mulligans are usually purchased in exchange for a raffle ticket. Raffle contests are usually held after the tournament and can lead to exciting prizes from rounds of golf, equipment and gift certificates. Anticipate spending $40-100 on mulligans for your team and make sure your boss covers the bill.
Scramble vs Best Ball
A common misconception in golf is that the scramble format is the same as the best ball format.
As stated earlier, the scramble format consists of a team of 2-4 golfers where each member hits a tee shot, the best shot is selected, the team plays their next shot (within one club length) from that location and repeats the shot selection process until the ball is holed.
The best ball format is different in that each player plays their ball from the tee shot until it is holed. The score for the team is then the best individual score for the hole for each member of the team.
Best ball tournaments are better suited for golfers who play regularly because requiring a beginner golfer to count every stroke on every hole can add significant time to an already time-consuming day.
This makes scramble tournaments ideal for beginning and novice golfers because there is no pressure to count every stroke.
How to Find a Golf Scramble Near You
Golf scrambles can be a fun and rewarding experience for golfers of all ages and abilities. Finding a golf tournament to play can be easier than you think. Here are several ways to find scramble tournaments near you:
Call Your Local Golf Course – Want to find something, go to the source! Public golf courses often run their own scramble tournaments to introduce new golfers to each other, the game and their facility. Additionally, charity scramble tournaments are a big source of revenue for golf courses and often need players to fill existing teams or sell new ones.
Non-Profits, Churches and Alumni Associations…Oh My! – Conducting a little online research, scouring social media or just calling your favorite non-profit can uncover great opportunities to find scramble tournaments near you.
Run Your Own! – Running a scramble golf tournament can be a daunting, yet rewarding experience and when done correctly can raise significant money for a non-profit organization. Contact your local golf professional so they can guide you through the entire process from start to finish.
What Is a Handicap in Golf?
Using the United States Golf Teachers Federation's definition, a handicap is:
"a measure of a golfer's current ability over an entire round of golf, signified by a number. The lower the number, the better the golfer is."
This number suggests the average score a golfer should shoot when playing.
For example, a golfer with a handicap of 12 has the ability to shoot around 12-over par (a score of 84 on a par 72 course) approximately 10-15% of the time while a golfer with a +2 handicap has the ability to shoot 2-under par (a score of 70 on a par 72 course) about 10-15% of the time.
The United States Golf Association, the main governing golf body for amateur golf in the U.S., establishes and manages the handicap system that all golf courses and golfers abide by.
The handicap system is uniquely designed so that an 18-handicap golfer can fairly compete against a 2-handicap golfer.
In a 2-Person scramble tournament, the team's handicap is subtracted from their gross score (total number of strokes during a round) to determine their net score (total number of strokes minus the team handicap).
For example, if a 2-person team records a gross score of 69 and if their team handicap is 5, their net score is 64. Scramble tournaments can award prizes for the lowest score (net and gross) but rarely will the same team win both.
Related Articles