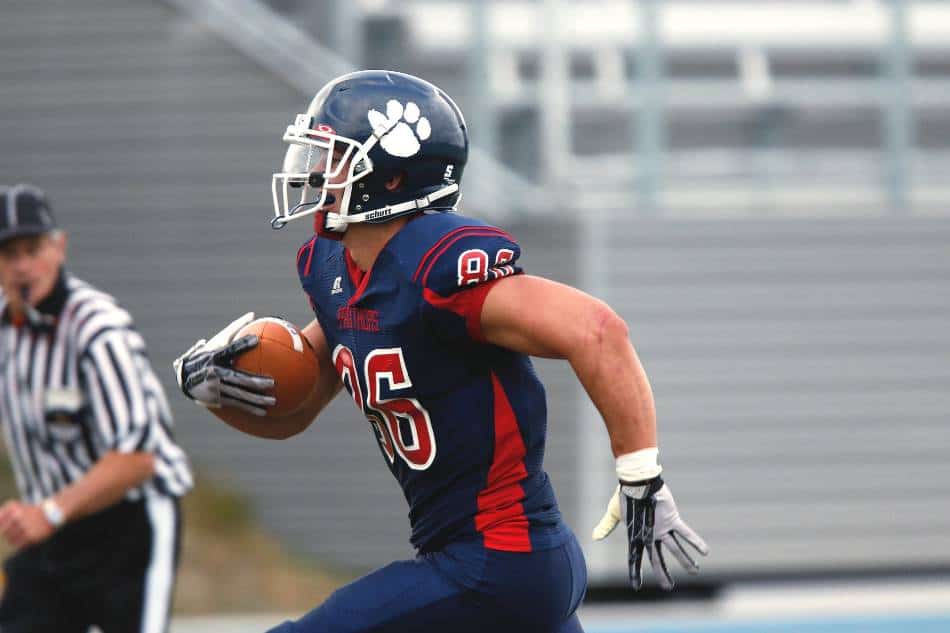 Of the 11 offensive players on a football team, not many will be asked to work as hard as the tight end. They end up serving several different roles when lining up on the field, yet don't receive a lot of credit for what they're able to do.
So, what is a tight end in football?
The tight end is known as a hybrid position on the offensive side of the football field. They're generally found between the end blocker and wide receivers on the field. Tight ends are asked to catch the ball, run-block, pass-block and might even do a little running in modern football.
It's no secret that the tight end position isn't made for everyone. It's reserved for a specific breed of football players and we're going to break it all down for you below. Everything from what they do to where they line up and how much they make — we've got the answers you're looking for.
What Do Tight Ends Do in Football?
As we mentioned above, the tight end is one of the more versatile players on the offensive side of the field. They're often viewed as a hidden weapon because a majority of the work they do goes unnoticed.
Tight ends don't receive as much credit as the quarterback, running back, or wide-receivers, but they arguably do more work than all of them.
The quarterback is asked to be the smartest, running backs are asked to be freak athletes, the linemen are asked to protect both of those positions and wide receivers (WR) are asked to catch the ball.
The tight end, on the other hand, is asked to do all of that. They might not have to be the best on their team at each trait, but they need to be versatile and big.
While the tight end won't receive as much credit, they have become much more important in modern football — especially in the NFL. We're starting to see the position breed some amazing athletes that are tough for opposing defenses to stop.
Looking at the scope of what a tight end does, it can be boiled down to three things — blocking, receiving and rushing. The first two are much more important to the position, but we're starting to see tight ends in the run-game a little more often in today's game of football.
Let's take a closer look at these responsibilities and what tight ends are asked to do on the field.
Receiving as a Tight End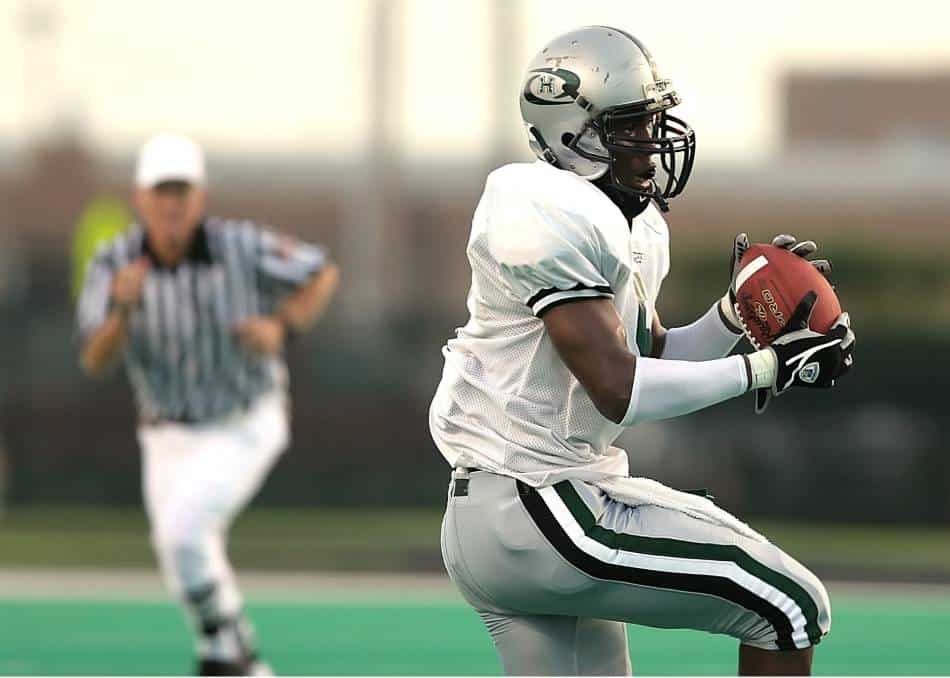 We're going to discuss receiving first because it's what the fans like most about a tight end. Seen as a hybrid wide receiver, the tight end will often get a lot of looks in today's game. Many quarterbacks tend to treat tight ends as safety nets and as a result, have great chemistry with them.
While tight ends are usually slower than wide receivers, they are almost always bigger, which creates a lot of mismatches on the offensive side of the ball. This makes the tight end a huge target in the red zone and on third-and-short opportunities.
A tight end won't see as many targets as the top wide receiver on the team, but they will often receive the second-highest number of targets.
Those that make the most of the opportunities they are given are the ones that catch the fans by surprise — especially the fans that partake in fantasy football.
Blocking as a Tight End
The second major responsibility for a tight end is blocking. It's the responsibility that fans are quick to neglect, but the coaches love. It's also the reason why tight ends are expected to have a tall and strong frame — if not tall, then definitely tough.
The truth is a tight end isn't going to be a part of every play like the wide receivers or running backs. Where most tight ends used to focus solely on receiving, most tight ends today are trying to be a dual-threat player by adding a blocking element to their game.
When this is achieved, tight ends will find themselves out there just as much as everyone else because they're valuable in any situation.
It's a large reason why coaches love a tight end that can block — it gives them an extra blocker whenever they need it.
Rushing as a Tight End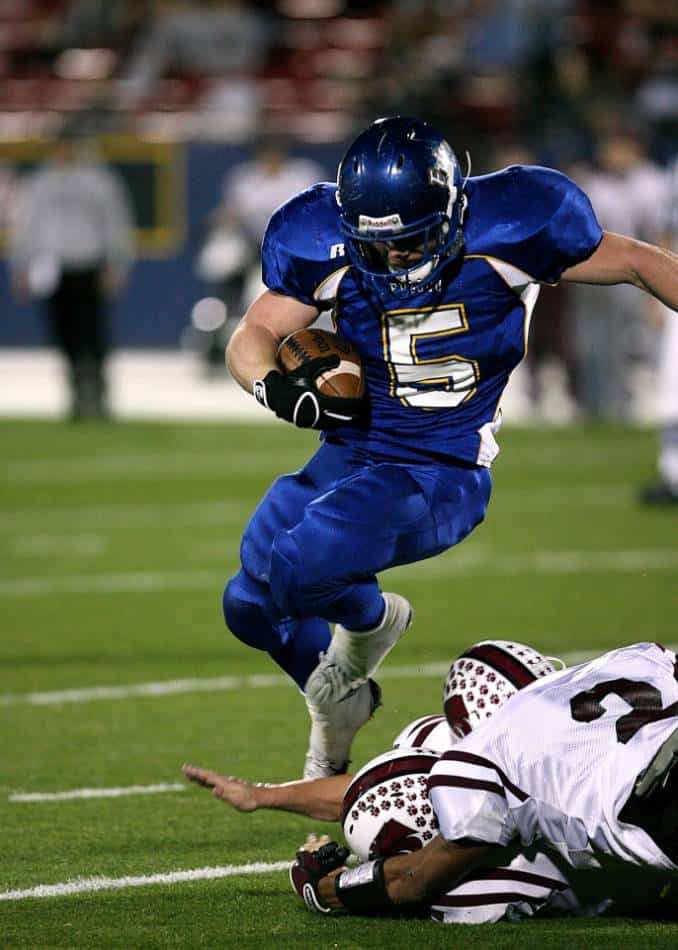 We're discussing this responsibility last because it's not too common for a tight end to rush the ball. With that being said, most teams are starting to do away with the fullback position — with only 14 NFL teams reserving a multi-year roster spot for a fullback in 2019.
With tight ends becoming more athletic, most teams are starting to use their tight ends in fullback scenarios. It's a perfect match since tight ends are already expected to block.
The more athletic a tight end is, the more tempted the coach will use them in those scenarios — opposed to a blocker.
Adding this third element helps tight ends stand out. If you aspire to play the tight end position at a high level, find a use for yourself on each play, whether you're being thrown to, blocking or running.
Where Do Tight Ends Line Up?
Since tight ends are asked to do a lot of different things, it's common to see them line up in different spots on the field.
Where they line up will give the defense a glimpse at what they could do, but most offenses will use the tight end as a disguise when lining them up.
Breaking it down, there are four major spots you'll see a tight end line up at – behind the quarterback, next to the offensive line (OL), between the offensive line and wide receivers, or on the edge as a receiver.
Let's take a closer look at those four areas:
Behind the QB – the tight end will generally line up behind the quarterback when fulfilling the fullback role. They'll likely be blocking for the quarterback or running back, but they can also be handed the ball or sent on a route as a receiver.
With the OL – most of the time, you'll see the tight end line up on the strong side or weak side of the offensive line. They'll be on the edge and will either be tasked with blocking a defensive end (or linebacker) or running a route.
Between the OL and WR – the second-most common position for the tight end, a coach might spread the tight end a little further than normal to urge the defense into thinking it's a pass play. They'll still be able to block if it's a run play, but will be in a better position to run a route if needed.
As a WR – in modern football, tight ends are starting to be built like taller wide receivers (opposed to smaller linemen). This transformation has made tight ends even more deadly in the receiving game, so it's no surprise we often see them line up as wide receivers.
One thing you'll see a lot with tight ends is motions when an audible is called. Opposing defenses love to use the tight end as a baseline when trying to figure out what the offense is trying to do.
As a general rule of thumb, the coach will be looking to confuse the defense by moving the tight end around as much as possible.
When designing their packages, most coaches will use a simple two-digit representation of how many tight ends are on the field at once.
Those packages will usually be 00, 01, 02, 10, 11, 12, 13, 20, 21 and 23 — where the first number represents running backs and the second number represents tight ends.
For example, a 23 package would consist of two running backs, three tight ends, five offensive linemen, one quarterback and no receivers.
A 12 package would consist of one running back, two tight ends, five offensive linemen, one quarterback and two wide receivers.
From there, coaches will have to determine where those players line up and that's where opportunities are endless.
What Makes a Good Tight End in Football?
We've discussed a lot about what a tight end does, but that doesn't mean anyone can step into the role of tight end.
It takes a rare breed of player and a specific set of skills to man this position properly, something most football players won't be able to live up to.
Whether you're trying to make your high school team, get noticed by a college recruiter, or make it to the NFL, coaches are going to have their eyes on five main traits when looking for the next great tight end — a tall frame, strength, hands, footwork, and athleticism.
Without all of these traits, coaches will likely view you as one-dimensional. As we talked about above, that won't work for a tight end and will often result in the player seeing a lot of time on the bench.
Tall Frame
The stereotypical tight end is supposed to look intimidating and that's precisely what we've been seeing in the NFL lately.
Tight ends are meant to be smaller linemen, but today's tight ends have started to look more like larger receivers — and that's a tough pill for most defenders to swallow.
The tall frame does a lot. It makes them prime real estate when in the red zone due to being a bigger target.
It makes them more difficult to bring down when they have the ball, harder to get around when blocking and more difficult to push around.
Most tight ends will measure at least 6'3'', but the best ones tend to be taller than that. George Kittle is listed at 6'4'', Travis Kelce is listed at 6'5'' and Rob Gronkowski is listed at 6'6''. When trying to be the best, it helps to be tall.
Strength
Like any blocker, strength is going to be key for any tight end. Since most defensive ends and linebackers will be the same size — if not bigger — than you, strength will help you match up with anyone no matter their size.
Without strength, the opposing defender will find it easy to work their way around you and get to the quarterback or running back.
Strength will also come in handy when targeted in the red zone. Much like rebounding in basketball, strength will help you win those 50-50 balls and give you a leg-up on the defender. This can make a world of difference when on the football field.
At the NFL Combine, most tight ends are expected to get at least 20 reps on the bench press at 225 pounds.
Hands
It's going to be hard to catch a football if you don't have reliable hands. Many coaches agree that having good hands helps tight ends get noticed.
If they can catch anything thrown their way, they won't need to have a lot of separation, won't need to be the best route runner and won't need to be the fastest player out there.
Aside from helping your team in tight coverage, having good hands is essential when blocking as well. Knowing where your hands are supposed to be and how to gain leverage on the defender using your hands are two very important techniques for a tight end.
Footwork
In addition to handwork, tight ends need to have proper footwork if they're going to make their coach happy. Much like the hands, footwork comes in handy when playing receiving and blocking.
Footwork is essential to keeping your balance when blocking. Without it, you'll likely find yourself on the ground as the defender whips past you in pursuit of the quarterback or running back.
In addition to that, footwork is essential to your release when running a route. The better footwork you have, the easier it is to fool the defender and create separation.
Athleticism
Finally, we come to one of the most important traits for any football player — not just tight ends. Athleticism is what's going to give you an edge over your competition. It includes everything from speed to endurance, vertical, agility, coordination and power.
There have been countless tight ends throughout history who didn't embody all of these traits, and their playing time suffered as a result.
In many ways, the modern-day tight end is asked to be a jack of all trades.
History of the Tight End Position
There was a time when American football teams were only allowed a set number of substitutions per game. This was a time when one-platooning was the main system being used by teams.
One-platooning referred to when players would play on both offense and defense. It's something we still see in college football today.
When the NFL started to see a decline in this system, players were allowed to settle into a niche role. Where lineman used to play as both the defensive and offensive lineman, they were now given a choice. Same with wide receivers and running backs.
This transition, which mostly occurred in the 1940-50s, is what led to the tight end position becoming popular. Some players were too big to be a wide receiver full-time but were too small to be a lineman full-time.
Paul Brown, former coach of the Cleveland Browns, was the original coach who sought a role for these types of players.
In the 1960s, the tight end position started to gain a lot of traction with the rise of Mike Ditka and John Mackey. These two players were the first tight ends to make noise as receivers. Most tight ends before them were largely viewed as blockers.
Who Is Best Tight End of All Time?
Mike Ditka and John Mackey made the tight end position famous, but we've seen many elite tight ends come and go.
Still, tight ends aren't always viewed as the "money player" and there are only nine of them in the National Football League's Hall of Fame — Ditka and Mackey being two of them.
We're going to look at some of the other greatest tight ends to step foot on a football field. Of the five we'll look at below, three of them are members of the Hall of Fame — Tony Gonzalez, Shannon Sharpe, and Kellen Winslow.
The other two, Rob Gronkowski and Antonio Gates, will surely be added to the Hall of Fame in the coming years.
Let's take a closer look at the careers of these tight ends:
Tony Gonzalez – 1,325 receptions, 15,127 yards, and 111 touchdowns
Antonio Gates – 955 receptions, 11,841 yards, and 116 touchdowns
Rob Gronkowski – 521 receptions, 7,861 yards, and 79 touchdowns
Shannon Sharpe – 815 receptions, 10,060 yards, and 62 touchdowns
Kellen Winslow – 541 receptions, 6,741 yards, and 45 touchdowns
There are a few tight ends currently in the league that are starting to revolutionize the position. Vernon Davis is a name that has been around for a while, but he's still making plays at the age of 36.
George Kittle, Zach Ertz, and Travis Kelce are some of the new-age phenoms at the position, while Greg Olsen and Jason Witten have represented the position well over the past 15-20 years.
How Much Do Tight Ends Make in the NFL?
We've gone over just about everything there is to know about tight ends in football, but there's one thing we haven't discussed — how much they make.
While NFL players are known to make insane amounts of money, the tight end won't get paid as much as quarterbacks, running backs, or wide receivers.
The top-10 highest-paid tight ends in the NFL make between $7.25-$10.6 million per year. With that being said, there are only 65 tight ends in the league making more than $1 million per year — compared to 105 wide receivers and over 200 offensive linemen.
Compared to other positions, the tight end isn't paid as much — but that's starting to change. With the rise of Travis Kelce, George Kittle, Hunter Henry, Austin Hooper and Zach Ertz, those contracts are going to continue to rise.
Related Articles