Golf is a game filled with a lot of terminologies. Occasionally, you'll hear a course referred to as an executive course. This isn't extremely common and many golfers may have never played one.
So, what is an executive course?
An executive golf course is a shorter course, consisting of par 3 and par 4 holes, that is designed to be played in a shorter amount of time. Executive golf courses are generally easier than standard golf courses and are typically around 5,200 yards long compared to 6,700 yards of an average course.
The idea behind the course is that it's faster to play due to the lack of par 5s and more par 3s. par is generally much lower than a typical course – usually somewhere in the low 60s as compared to a typical par around 72 on a standard course.
Why Is It Called an Executive Golf Course?
The idea behind the naming of the executive course is that the shorter round time makes it ideal for a lunch break meeting on the golf course for corporate executives.
The average golf hole should take a bit under 15 minutes to stay on pace, per the PGA's standards. Since most courses have about a similar amount of par 3 and par 5 holes, the time balances out to a consistent standard that takes slightly longer on par 5s and slightly less time on par 3s.
By reducing the number of par 5s and limiting the total number of par 4s, every hole on an executive course can generally be completed in under 15 minutes. This speeds up the amount of time to play nine holes and allows for an easier time commitment to hit the course.
Are Executive Golf Courses Hard?
The difficulty of an executive course can vary from layout to layout. For beginners, the concept of an executive course can be helpful.
One of the earliest difficulties new golfers encounter is the challenge to hit the ball consistently in a way that creates lift. With a shorter executive course, there aren't daunting par 5s measuring over 450 yards. The shorter layout makes it easier to mishit the golf ball and still get the ball near the green in a more reasonable amount of time and strokes for beginner golfers.
For more advanced players, the difficulty of the executive course really comes down to the strengths in their bag. Often, the par 4s on an executive course are on the short side despite being par 4s. This allows players to hit shorter approach shots than if they were playing a standard length course with par 4s over 400 yards.
Players who hit the ball far off the tee can maximize this shorter course design to reach more greens in under regulation. However, the focus on wedges and putting on these executive courses really emphasizes the quality of a player's short game.
Executive courses can be a great way for all golfers who have a bit of experience get a full round to practice their short game. It is also worth noting that the course condition and quality play a huge role in the ease of these courses.
With such an emphasis on being able to hit full wedges, pitches, and putts consistently to capitalize on scoring opportunities, poor conditions make a major impact on the ability of players to keep these scoring shots on line and get them into the cup.
How Long Are Executive Courses?
Given the lack of par 5s, although the occasional one may show up on an executive course, most executive courses are around 5,200 yards, compared to the average course length of 6,700 yards, assuming the course is an 18-hole course.
The exact length of an executive golf course depends on the property the designer has to build upon when creating the course. If there is room for more par 4s or the designer puts in a par 5, the course length will be listed as longer than a course with fewer or individually shorter par 4s.
The only courses that can be smaller than an executive course are par 3 courses that contain an entire course worth of par 3s, generally under 200 yards apiece.
How Long Does It Take to Play An Executive Golf Course?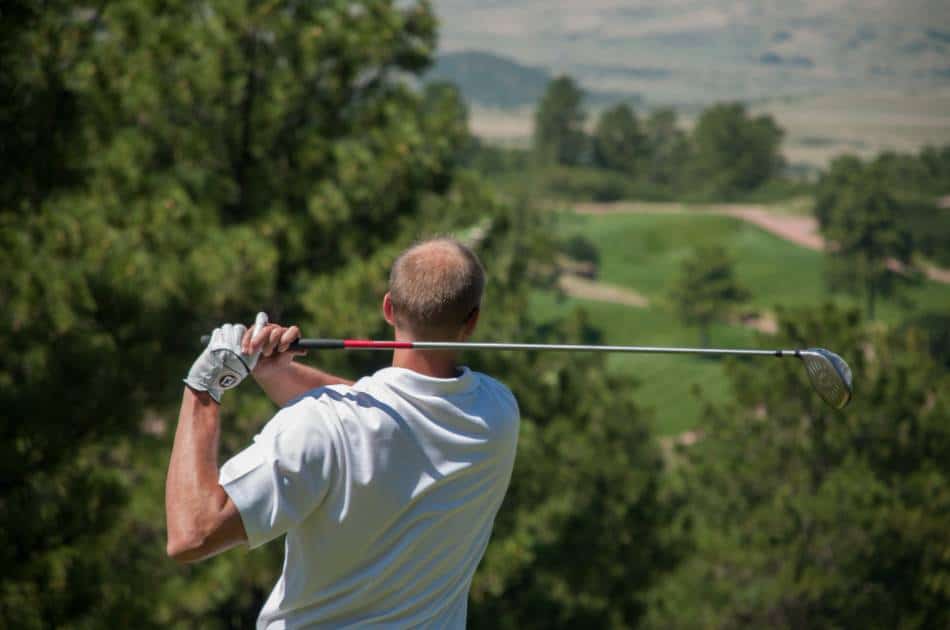 Typically, an executive course is designed with the idea that a round should be able to be completed within a lunch break, which we discussed earlier within the origin story of the name "executive course".
Ideally, a lunch meeting could be held on the course, and nine holes of play could be completed in under 1.5 hours, compared to the usual 2-2.5 hours to play nine holes on a regulation course. This allows corporate executives to take their lunch out to the course and play instead of being stuck in an office all day.
Executive Golf Course vs Normal Golf Course
An executive course is a shortened version of your typical golf course. A typical golf course contains either nine or 18 holes, which generally consist of a mixture of par 3s, par 4s, and par 5s.
On a typical golf course, the majority of holes are a par 4, meaning that it takes an assumed average of four golf shots to complete the hole. On a classic design, there are two par 3s and two par 5s on the front and back nine. This balances the course out to an average par of 4 across 18 holes, which adds up to a par of 72.
Not every normal course has 72 as its par. Some courses only have one par 5 on the front and back nine, leading to a par of 70. Courses can vary a few strokes in either direction for a typical design and what standard par is on the course. However, after diminishing the total par of the course down to the mid to low 60s, the course then becomes more of an executive course design.
Executive courses contain more par 3s than par 4s, which is the complete opposite of the typical "normal" course design that contains mostly par 4s. Additionally, finding a par 5 on an executive course is rare. Many designs do not contain these longer holes because it lengthens the amount of time required to complete a round on the course.
An executive golf course is designed with the speed of pace of play in mind. Ideally, players could complete nine holes in under an hour and a half, making golf a more feasible activity during lunch or for business meetings.
Due to this goal, there are a lot of par 3s, and the par 4s generally are not extremely long. Executive courses are a great place for beginners or players who don't hit the ball super far to work on their games, along with providing an option for a quick mid-day nine holes.
Executive Golf Course vs Par 3 Course
Executive courses do have a number of things in common with par 3 courses. First off, both are shorter than your typical golf course design. They both also majorly focus on par 3s and can be played in a much shorter amount of time than a normal length golf course. Both courses also do not require a large portion of land to create a course compared to a standard layout.
An executive course or a par 3 course would be a great initial place to learn the game of golf after starting on a driving range. It's also a good place to visit for players who do not carry the ball a long distance off the tee, as well as for players who feel their approach and short games could use some assistance.
The occasional par 3 course will contain a handful of par 4s. One of the big differentiators is if the course has an 18-hole par over 60. A course with all par 3s would have a par of 54. Executive courses typically have a par between 60 and 65.
The exact number of holes can have an impact, but the classification of a course is really up to the owner. Similar to your local country club that doesn't seem like the conditions are up to the "country club" title, there is a general understanding in the game of the types of courses, but at the end of the day, the owner can refer to their course as whichever they prefer.
Types of Golf Courses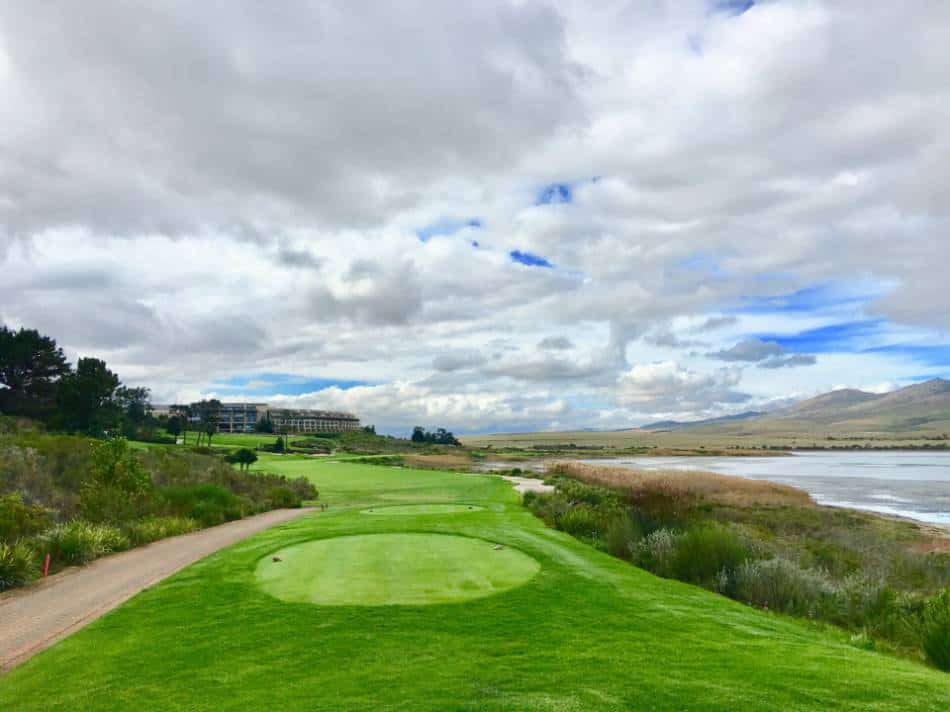 Golf courses can be broken down into multiple categories. Courses are typically considered to be regulation if they contain either 9 or 18 holes, although properties exist with an alternative number of golf holes. These layouts can be classified into a few different categories.
The first type of golf course would be a typical standard course. These courses typically are over 5,500 yards and contain a mix of par 3s, par 4s, and par 5s. Generally, the standard course contains mostly par 4s with some par 3s and par 5s mixed in to have a total 18 hole par of around 70 -72.
Then we have executive courses. An executive golf course typically follows the same number of holes as a standard course (either 9 or 18) but is considerably shorter in length. While a standard course contains mostly par 4s, an executive course will contain more par 3s with the occasional par 4 sprinkled in.
This variation in course configuration leads to a significantly shorter golf course. Executive courses generally have a par somewhere in the low 60s, which is quite a few shots less than a typical regulation course par of between 70 and 72.
There are some benefits to a shorter course. This executive layout requires less land and a shorter building period to design and create a new course. The shortened holes also allow for a much faster pace of play, with the idea being that nine holes can be completed within an hour to an hour and a half.
This quicker round design allows for the possibility of bringing lunch meetings out on the course instead of in the boardroom, hence the designation of an executive course.
Par 3 courses also exist. This final designation is pretty aptly named, as the majority of courses contain either 9 or 18 holes that are all par 3s. Though there can occasionally be a par 4, most par 3 courses do not contain more than a handful of holes that are not par 3s, and generally don't have a total course par over 60.
Just like executive courses, a round of golf on a par 3 course can be completed with a more rapid pace of play and requires a lot less space and physical land to be able to draw out and construct a new course layout.
Outside of the course par and physical land, there are some variations on what the course architecture looks like as well. The most common layout is a parkland layout, which consists of typically flat fairways, trees surrounding the course, and a lot of adaptation of the property by the course architect.
Arguably the most famous parkland course design is Augusta National, which hosts the Masters tournament every April in Augusta, Georgia. The parkland layout is very standard in the United States and many courses that are played every week on the PGA Tour follow a similar setup. Trees are a staple to the parkland layout, which gets its name from the course resembling more of a Central Park type of layout.
The alternative to the parkland layout is a links course. Although more commonly found in the United Kingdom and Ireland, links courses appear all over the United States as well, typically closer to the coastline.
These links layouts are more of a natural design, with the course layout flowing along the natural peaks and valleys of the land instead of having the course architect moving land in and out to create a manmade golf course.
Alternatively, there is one more course layout that does not occur in either a links format or a parkland-style course. With the variation in terrain across the United States, there are areas of the country that do not sit near a coastline to create a links layout.
This initial move inland helped to create the parkland layout. However, parkland courses require a terrain that can support a large amount of vegetation. Enter the desert layout. Courses down in the southwest region of the United States, such as Arizona, are created differently than your typical inland parkland course.
Due to the desert biome of the area, courses have to be limited in the amount of greenery that can be maintained on the property. Often, the fairway, tee boxes, and greens are maintained with the outer parts of the course being left to be naturally sandy instead of containing deep rough or heather like a parkland or links course would.
Much of the variation in golf courses can be attributed to the land that the course is being built on. The length of a course being regulation, executive, or par 3 is primarily restricted based on how much building space is available for the course architect, although the budget for the project does play a secondary role in determining what type of course to build.
The course layout being links, parkland, or desert also is very dependent on where the course is being built and what the natural landscape of the property looks like before the architect starts making design decisions.