NBA superstars are well-known for their huge contracts and extravagant lifestyles. However, not every player makes big money in the league – in fact, many important NBA players make significantly lower salaries.
So, what is the minimum salary in the NBA?
The NBA minimum salary is the lowest salary that a player can earn for a full year in the NBA. For the 2021 season, the minimum salary for a player with zero years of NBA experience was $925,258. As players accumulate years of NBA experience, the minimum salary they can earn increases each year.
The minimum salary pay scale for veteran NBA players can vary considerably based on their amount of overall league experience, as well as the number of years on their contract. While the minimum salary might seem like a confusing concept, it's actually an essential part of NBA roster building and easy to grasp once you understand the basics. Let's take a look at all the details together.
What Is the NBA Minimum Salary?
The NBA minimum salary for the 2021-22 NBA season is $925,258. This applies to a player who has no years of experience in the NBA. This could be a newly drafted player, an undrafted free agent, or a player who has just entered the NBA from overseas, or a different level of basketball.
Of course, certain players have the ability to negotiate larger contracts depending on their draft position or their prestige when entering the league, so not all new NBA players make the minimum salary.
What constitutes a year of NBA experience, you might ask? Spending any amount of time on an NBA roster in a given season, even just one game earns a player a year of experience. So, players don't need to be starters or even consistent players in order to go up in terms of experience level and the amount of pay that they can earn.
The NBA minimum salary goes up correspondingly relative to the number of years of experience that an NBA player has. This is best explained through a chart, shown below:
| | |
| --- | --- |
| Years of Experience | Minimum Salary |
| 0 | $925,258 |
| 1 | $1,489,065 |
| 2 | $1,669,178 |
| 3 | $1,729,217 |
| 4 | $1,789,256 |
| 5 | $1,939,350 |
| 6 | $2,089,448 |
| 7 | $2,239,544 |
| 8 | $2,389,641 |
| 9 | $2,401,537 |
| 10+ | $2,641,691 |
The fact that the minimum salary doesn't change considerably after a player accumulates 10 or more years of experience is an important point. Veteran players who might have earned a lot of money in their prime might be willing to take lesser contracts in their later years to play for a championship contender.
However, if their skills only earn them a minimum contract, the money that they earn doesn't continue to grow past the mark of 10 years of experience.
One key point to NBA minimum contracts is that NBA teams will only pay a limited amount of salary to players on the minimum once they stack up two or more years of experience. This is done to keep players from avoiding signing older players in order to save money on contracts.
Once a player reaches two years of experience in the NBA, teams will only pay them a maximum of $1,669,178. So, who makes up the difference to pay off the total minimum salary?
The answer might surprise you – it's the NBA itself. So, if a player were to have four years of experience and sign a minimum contract, they would earn $1,789,256. However, out of that total value, their team would only pay $1,669,178, while the NBA would pay the balance of $120,078.
There's a catch that we haven't yet accounted for, though. All of the rules that we've previously discussed only apply to contracts that are signed for only one year.
If a player were to sign a multi-year contract on the minimum salary, they would see several salary changes in the subsequent seasons. First of all, they would see their salary increase in accordance with the NBA experience that they earn. Additionally, this yearly salary number would increase by 5% each year relative to the standard minimum salary amount for the relevant years of experience.
Confused yet? We think that it's easiest to see this in action.
Imagine that a brand-new NBA player signs a two-year contract at the minimum salary level. Considering that he hasn't yet played an NBA game, he would be counted as having no NBA experience. For his first year of the contract, he would make the standard minimum amount for a player with no NBA experience – $925,258.
However, in the second year of the contract, he would see an increase and a small benefit from signing a multi-year contract. Instead of earning the typical amount for a player with one year of NBA experience ($1,489,065), he would instead earn $1,563,518, which is a 5% increase over this amount.
So, this hypothetical player would earn $74,453 more through his multi-year contract than if he had signed two consecutive one-year contracts at the minimum contract level.
The salary cap increases in some years, which can offset the benefits of this multi-year deal and changes the minimum salaries slightly. However, most recently it went up 3% between the 2020-21 and 2021-22 seasons, so players on multi-year deals often still come out ahead.
With this all being said, multi-year minimum contract deals are unusual, especially for veteran NBA players. These players may accept a deal at the minimum for one year, but they usually want to leave the option open to earn a larger contract in the next year if their performance warranted it.
How Many Players in the NBA Make the Minimum Salary?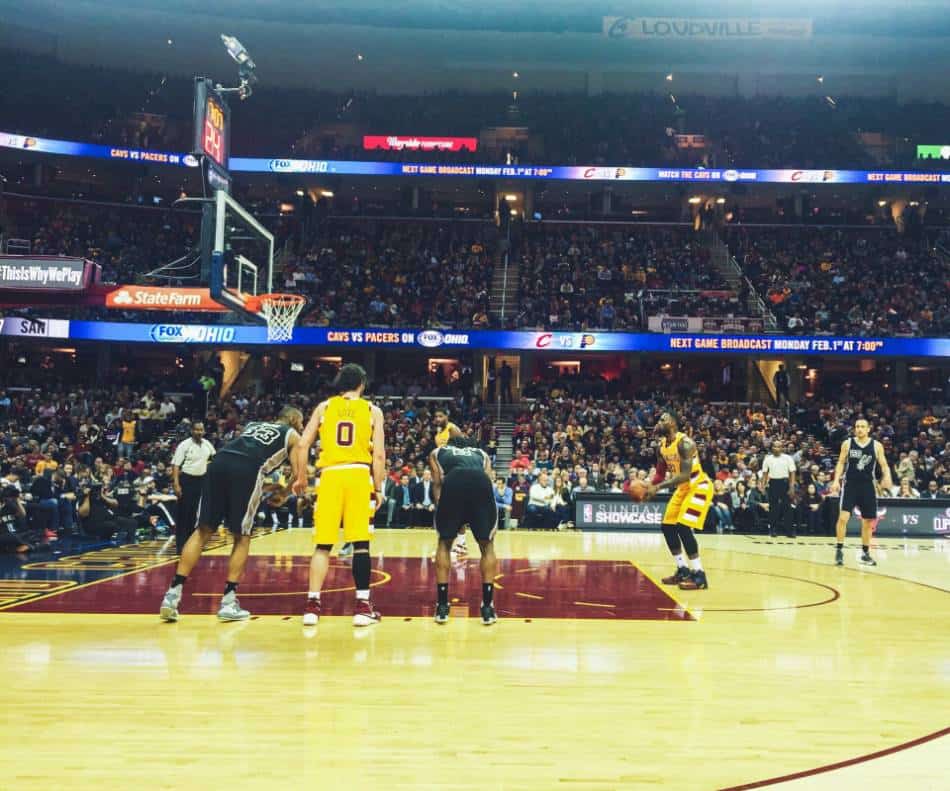 As many as 70 NBA players currently make the minimum salary in the 2021-22 season. Many of those who make up this number are young players still trying to establish themselves in the league, but there are also veteran players who play important roles on championship teams. The exact number of players who are currently playing on the minimum salary depends on how you define things.
Why is this?
As with most other types of NBA contracts, there are exceptions to the minimum salary as an actual dollar amount. For example, in the 2021-22 season, Los Angeles Lakers center DeAndre Jordan only earned the veteran minimum salary of $2,641,691 through his contract with Los Angeles.
However, due to a buyout of his previous contract by the Detroit Pistons, he still received some of that contract during the next two seasons as well.
In addition, players will occasionally join a team via a 10-day contract, where they are paid at the minimum salary rate for those 10 days. However, these players do not make the full yearly minimum dollar amount, as they aren't under contract outside of this short period.
There are many excellent NBA players who are paid the minimum salary. Longtime NBA players like DeAndre Jordan, Dwight Howard, Carmelo Anthony, Andre Iguodala, and Blake Griffin have all played on minimum contracts. Many times, players with great reputations take on these contracts to play for a championship-caliber team that is strapped for cash.
Role players who entered the league as free agents or lower draft picks may still be playing on the minimum salary after several years in the league. Take Oklahoma City Thunder defensive specialist Luguentz Dort, Dallas Mavericks backup point guard Frank Ntilikina, and Brooklyn Nets big man Nic Claxton as examples that fit this mold.
Finally, young players who are new to the league may make the minimum as they attempt to establish themselves in the league. Some good examples of this are former Baylor star and second-round Utah Jazz draft pick Jared Butler and Chicago Bulls second-round draft pick Ayo Dosunmo. Both Butler and Dosunmo played substantial roles for their teams in only their rookie seasons.
NBA Minimum Salary Over the Years
The minimum salary in the NBA was first implemented in 1995 through the league's Collective Bargaining Agreement. At this time, there was less variation between the years of experience and the corresponding salary. Players with no NBA experience made a minimum of $200,000, but players with one or more years of experience all made $225,000.
Although the salary numbers increased over the following years, the same structure stayed in place until the new Collective Bargaining Agreement was negotiated in 1998. Then, the minimum contract structure took the same shape as it currently has, in terms of a steady increase as years of NBA experience also increased.
Between 1998 and the present day, the minimum salary has steadily increased. In fact, it has never decreased throughout the entire history of the contract. The minimum contract values stayed the same between 2010 and 2012 as the league's salary cap was relatively stagnant, but since then it has taken several large jumps.
Of particular note, the league minimum salary increased considerably from $543,000 in 2016-2017 to $816,000 in 2017-2018,
What Is the Salary Cap in the NBA?
The salary cap in the NBA is the maximum amount of money that can be paid to players by NBA teams in any given season. This value influences the players that teams can acquire, whether that is through the draft, free agency, or trades.
In the 2021-22 NBA season, the salary cap is $112,414,000, which is an all-time high.
In the NBA, teams can theoretically exceed the salary cap. If they do, they are then subject to a luxury tax which penalizes teams by forcing them to pay an added amount for every dollar that they pay over the salary cap. Most NBA teams will not go over the salary cap in order to avoid having to pay the luxury tax.
What Is the Average Salary in the NBA?
Being an NBA player seems like an ideal job to have. Not only do you get to play a game for a living, but you also make an excellent salary in the process.
So, what is the average salary in the NBA? For the 2021-22 season, the average NBA salary is $8.25 million. This is obviously much higher than the minimum salary of $925,258. It's safe to say that there is a pretty large discrepancy between the highest and lowest paid NBA players.
How Much Do NBA Players Make a Game?
The amount of money that NBA players make per game varies depending on a players' actual salary. However, since we're taking a look at the minimum salary in the NBA, we'll use this as an example.
Take Jared Butler, the rookie Utah Jazz guard who is currently playing on a minimum contract. As a player with zero years of NBA experience, he is making $925,258.
If we utilize the full season of 82 games, this salary averages out to $11,283.63 per game. That's still pretty good for the lowest possible NBA contract!
Of course, this method doesn't account for all of the offseason time and preparation that NBA players must go through to stay in the league and prosper as players. But it's a good start in understanding what NBA players earn for their hard work.
Who Makes the Most Money in the NBA?
Of course, not every NBA player makes the minimum salary. Some of the best-known NBA players make well over $30 million per year, and a select few even top the $40 million mark.
But who makes the most money in the NBA?
As of the 2021-22 season, Golden State Warriors superstar Stephen Curry is the highest-paid player in the NBA. He earns a staggering $45,780,966 this season from his contract with the Warriors. This doesn't include any money he makes from personal ventures like sponsorships or other businesses.
What Is a Two-Way Contract in the NBA?
A two-way contract in the NBA is a contract that allows teams to carry two additional players on their roster who split their time between the G League and the team's active NBA roster. This type of contract was first implemented in the 2017-18 season.
Under two-way contracts, players can only spend 45 days during the NBA season on a team's active roster, and they need to spend the rest of the time in the G League.
Two-way contracts are different than minimum contracts. Minimum contracts rely on a player being signed to an NBA contract and playing in the league for the extent of their contract.
Meanwhile, players on two-way contracts make the corresponding salary amount based on whether they are in the G League or the NBA. When they are in the G League, two-way players get a prorated portion of $84,414 for the 2021-22 season. When they are in the NBA, players earn a prorated portion of the minimum salary that corresponds to their NBA experience level.
Typically, players on two-way contracts are younger players still trying to establish their role in the league. As a result, they are willing to accept the lower pay that goes along with two-way contracts in order to prove themselves and their basketball abilities.
How Much Do G League Players Make?
The G League is a significantly lower level of basketball in comparison to the NBA. In the G League, players play with teams that have direct access to the NBA while having the opportunity to improve their own individual abilities.
However, G League players also make much lower salaries than their NBA counterparts. While some G League players make more than average, the average player in this lower-level league only makes an average of $35,000 per season.
How Much Do Basketball Players Make Overseas?
Basketball players overseas have highly variable levels of compensation. Considering that different players play in different countries and even different levels of basketball within the same countries, this makes sense. However, there are some general parameters to the salaries of players in overseas basketball.
Players can earn salaries as low as $2,000 per season in other countries playing basketball, but the very best players in the top overseas leagues make as much as $4 million per season. This is heavily dependent on the economic strength of a country as well as the prestige of the teams and leagues involved.
What Is the WNBA Minimum Salary?
In the Women's National Basketball Association (WNBA), the on-court rules are largely the same. Off the court, while there still is a minimum salary, the salary cap rules are slightly different.
In the WNBA, there is a minimum salary of $58,710 per season for players with two or fewer years of service. For players with three or more years of service, they are able to make a little bit more money – these players make a minimum of $70,040 per season.
How Much Do College Basketball Players Make?
Up until the summer of 2021, college basketball players didn't make any money aside from the scholarships which they sometimes receive to cover their academic expenses. Everything changed with the implementation of the NCAA's Name, Image, and Likeness rule (NIL), though.
With this new NIL rule, basketball players and athletes, in general, can profit off of their abilities through sponsorships and other deals which are related to a person's image. For certain players, this can be a huge amount of money if they have a large enough sphere of influence. However, there is no set salary or agreed-upon amount for players participating in the NIL program.