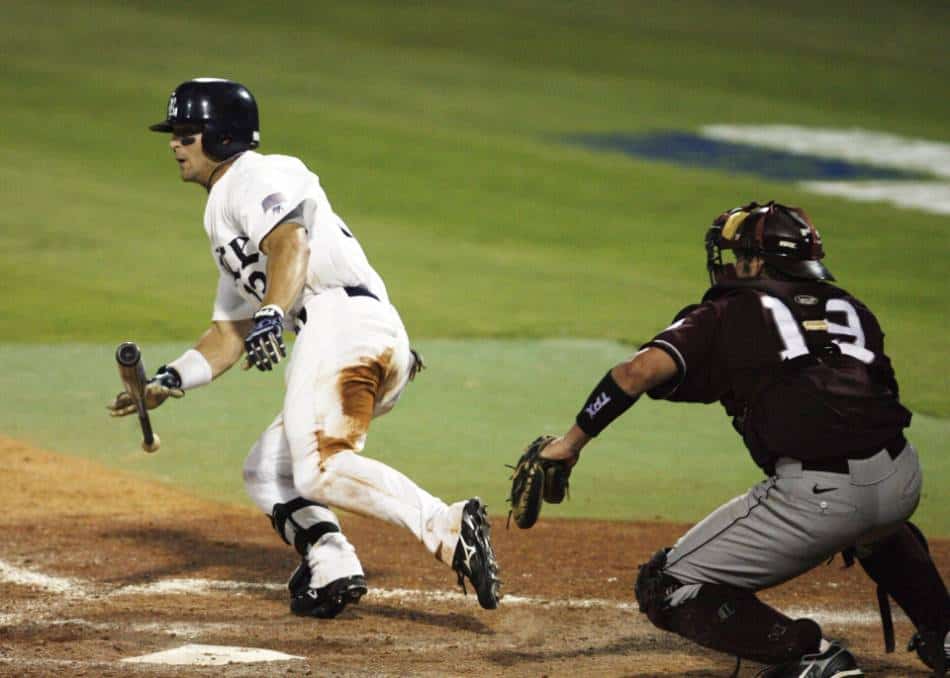 There are an endless amount of stats in baseball when it comes to batting, fielding, and pitching. One of the most commonly talked about is the "RBI".
So, what is an RBI in baseball?
An RBI, or run batted in, is awarded to a batter when a runner on base or the batter themselves scores as a result of that plate appearance, usually by a hit or walk. The maximum number of RBIs you can earn for one at-bat is four. Exceptions include double plays, errors, stolen bases, and wild pitches.
In this article, we'll explain what an RBI is, what the MLB RBI records are, and when players are and aren't awarded an RBI. We'll also discuss why RBIs might be an overrated statistic and how many RBIs in a season is considered good.
What Does RBI Mean in Baseball?
Runs batted in, or RBIs, are one of the most talked-about stats when measuring how well a hitter does, whether in a game, a season, or their whole career.
A batter earns an RBI when a runner, or multiple runners, score during their at-bat. RBIs most commonly come from hits (including home runs), walks, and hit by pitches.
There are also a few situations where the batter doesn't earn an RBI even when a runner scores. These situations include errors, double plays, and wild pitches.
Here is how the MLB defines an RBI:
A batter is credited with an RBI in most cases where the result of his plate appearance is a run being scored. There are a few exceptions, however. A player does not receive an RBI when the run scores as a result of an error or ground into a double play.
The most common examples of RBIs are run-scoring hits. However, players also receive an RBI for a bases-loaded walk or hit by pitch. Players can earn RBIs when they make outs, as well, provided the out results in a run or runs (except, as noted above, in the case of double plays).
Is an RBI a Hit?
An RBI can result from a hit, whether it be a single, double, triple, or home run. A hit can result in anywhere from zero to four RBIs depending on the type of hit and how many runners are on base and score as a result of the hit.
But there are exceptions since RBIs don't always result from hits.
You can hit a sacrifice fly or bunt and earn an RBI if one or more of the runners score during the play. You can also earn an RBI if a runner scores on a walk or if the bases are loaded and you're hit by a pitch.
And, as far as the relationship between hits and RBIs goes, you can only have one hit per plate appearance, but you can have up to four RBIs from a hit
How Many RBIs in a Season Is Good?
As you'll see in a later section, the most RBIs in one season is 191. But that was in 1930, and baseball has changed a lot since then. Today, it's impressive when players earn more than 100 RBIs in a season.
During the 2021 season, only 20 players had 100 or more RBIs, and Salvador Perez had the most with 121 RBIs, according to ESPN. Furthermore, the top 50 players on the RBI leaderboard for 2021 had 85 or more RBIs, and 165 players had 50 or more RBIs during the season.
So, while 100 RBIs or more is impressive, anything between 50 and 100 is considered average to good.
You also need to remember that RBIs depend on the number of at-bats a batter receives and the opportunity based on how many players are on base during those at-bats. So, a lot of times, the number of RBI opportunities for a player is up to the team they're on.
Sure, a player still needs to get a hit so any runners on base can score, but getting RBIs is difficult if there are rarely players on base during those plate appearances.
RBI Career Leaders
Here are the top RBI career leaders in the MLB according to Baseball Reference:
| | | | |
| --- | --- | --- | --- |
| Player | Career RBIs | Plate Appearances | Years Played |
| Henry Aaron | 2,297 | 13,941 | 1954 – 1976 |
| Babe Ruth | 2,214 | 10,626 | 1914 – 1935 |
| Albert Pujols | 2,150 | 12,690 | 2001 – Present |
| Alex Rodriguez | 2,086 | 12,207 | 1994 – 2016 |
| Cap Anson | 2,075 | 11,331 | 1871 – 1897 |
| Barry Bonds | 1,996 | 12,606 | 1986 – 2007 |
| Lou Gehrig | 1,995 | 9,665 | 1923 – 1939 |
| Stan Musial | 1,951 | 12,721 | 1941 – 1963 |
| Ty Cobb | 1,944 | 13,103 | 1905 – 1928 |
| Jimmie Foxx | 1,922 | 9,677 | 1925 – 1945 |
| Eddie Murray | 1,917 | 12,817 | 1977 – 1997 |
| Willie Mays | 1,909 | 12,545 | 1948 – 1973 |
RBI Season Record
Here are the top ten single-season RBI leaders according to Baseball Almanac:
| | | |
| --- | --- | --- |
| Player | Season RBIs | Year of Record |
| Hack Wilson | 191 | 1930 |
| Lou Gehrig | 184 | 1931 |
| Hank Greenberg | 183 | 1937 |
| Jimmie Foxx | 175 | 1938 |
| Lou Gehrig | 175 | 1927 |
| Lou Gehrig | 175 | 1930 |
| Babe Ruth | 171 | 1921 |
| Hank Greenberg | 170 | 1935 |
| Chuck Klein | 170 | 1930 |
| Jimmie Foxx | 169 | 1932 |
RBI Game Record
According to Baseball Almanac, the current record for most RBIs in a single game is 12, and two different St. Louis Cardinals players hold it.
Jim Bottomley first set the record on Sept. 16, 1924. He went six-for-six with three singles, a double, a home run, and a grand slam, giving him 12 RBIs.
Then, Mark Whiten, also a Cardinals player, tied the record on Sept. 7th, 1993. He hit four home runs during the game, and all 12 of his RBIs came from those home runs.
Tony Lazzeri of the Yankees holds the RBI game record for an American League player with 11 RBIs on May 24th, 1936.
There is also a record for the most RBIs in a single inning. Fernando Tatis holds the current record with eight RBIs in the 3rd inning of his game with St. Louis on April 23rd, 1999.
He hit two grand slams in the same inning, giving him eight RBIs and the honor of being the only player to hit two grand slams in the same inning in major league history.
Are RBIs Overrated?
RBIs are one of the most commonly used statistics to measure a player's performance and success in baseball.
But is it an overrated stat?
Well, many baseball analysts and players focus on RBIs as one of the most important stats, along with other common stats like batting average, hits, home runs, and on-base percentage.
Furthermore, the Triple Crown is earned when a player leads the league in RBIs, home runs, and batting average. Since RBIs are considered in that feat, they must be somewhat important for measuring how good a batter is, right?
On the other hand, there are a lot of factors that play into how many RBIs a player can have during a season, like the number of at-bats, how many runners are on base during those at-bats, and wherein the lineup a player bats.
Because of this, many people consider it overrated because players don't always earn RBI opportunities consistently. Players hitting in the middle of the lineup have a better chance of getting RBIs because players who are hitting ahead of them are more likely to get on base and hit for contact.
Do You Get an RBI on a Fielder's Choice?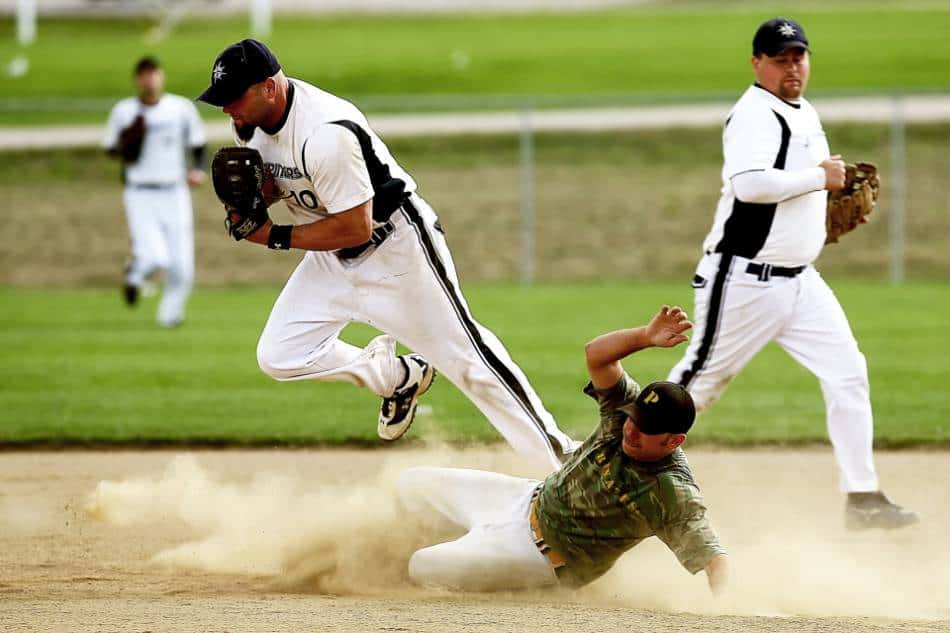 Scoring RBIs on a fielder's choice depends on the runner who scores and their movement. If they're running straight towards home plate regardless of where the fielder is throwing the ball, the batter will be awarded an RBI when they score.
But, if the runner is not initially attempting to score on the play but then runs home to score once they see where the fielder is throwing the ball and how the play is going, the batter will not earn an RBI. The reason for this is that the runner would not normally score on the play, and they only did because of the fielder's decision and not because of the hitter.
Do You Get an RBI on a Wild Pitch?
No, you don't get an RBI on a wild pitch because you didn't cause the runner to score. The run scored because of the pitcher's error, and not because of a hit or walk. And, the same counts for any runs from stolen bases during your at-bat.
Do You Get an RBI On a Double Play?
Double plays are another situation where you don't earn an RBI. If you hit the ball into a double play and a runner scores and no RBIs are awarded on the play, regardless of the run(s) that scored.
Do You Get an RBI for a Walk?
Yes, you get an RBI if you walk and a runner scores. Even though the pitcher threw the balls, your patience at the plate ultimately led to a run-scoring.
A similar situation occurs when you're hit by a pitch with the bases loaded. Because you're getting on base due to your at-bat if a runner scores you're awarded an RBI.
Do You Get an RBI On an Error?
Another time that batters don't earn an RBI is when runs are scored on an error. If a runner scores thanks to a mistake by the defense, you don't earn an RBI because the run wasn't earned because of you.
Is an RBI Groundout an At-Bat?
Yes, an RBI groundout counts as an at-bat. You earn the RBI from the run that scored, but the at-bat still counts against your stats because it was not an intentional out.
On the other hand, a sacrifice fly would give the batter an RBI but doesn't count as an at-bat. The reasoning behind this is that the player gave up their at-bat to score their runner, whereas with a groundout, they didn't intentionally give up their at-bat, so it still counts as such.
Does a Home Run Count as an RBI?
Yes, a home run counts as at least one RBI since the batter themselves scores on the play. But, you can have up to four RBIs depending on how many runners are on base when the home run is hit. For example, a grand slam gives the home run hitter four RBIs.
Related Articles