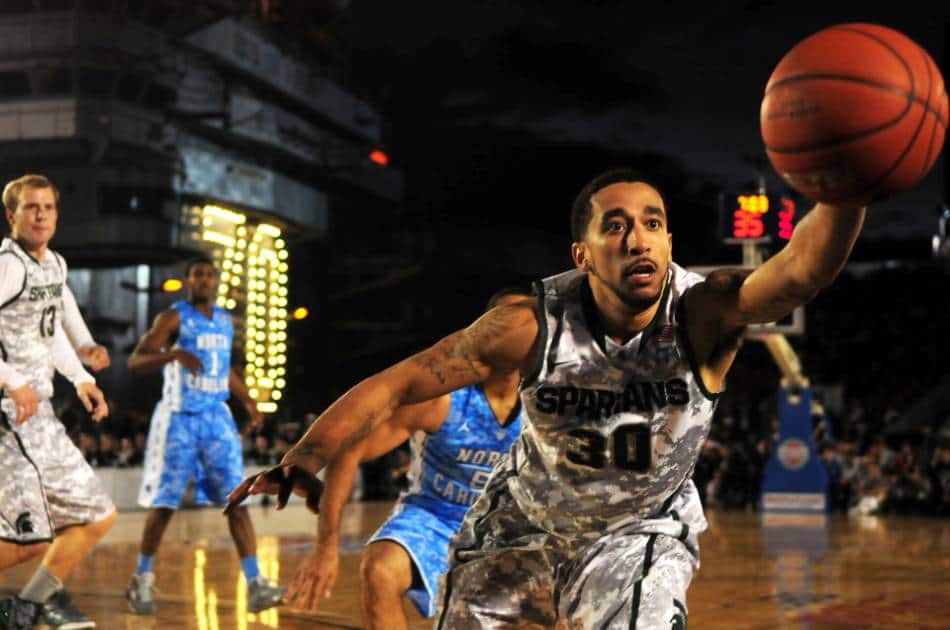 There's a lot to know when it comes to basketball, and that includes knowing about all the different positions. A position that has become more and more popular in recent years, is the combo guard.
So, what is a combo guard in basketball?
A combo guard is a player who can play the point guard or shooting guard position. Combo guards are typically shorter than the average shooting guard but have the skill set to play the position. Combo guards offer flexibility to teams when creating rosters and setting game lineups.
But not all combo guards split their time evenly between each guard position. And sometimes the reasons for why and when combo guards switch to one position or another might surprise you. There are many factors to this, their team, their roster, their coach, and a lot more.
What Role Does a Combo Guard Play In Basketball?
A combo guard offers a team a lot of flexibility. So, to ask what role they play on a team…depends on what that team needs. As mentioned, the two different types of guards are point guards, also called 'the one,' and shooting guards also called 'the two.'
We'll get more into what responsibilities those positions typically have. But the best part about having a true combo guard is that you have someone who can fill in for whatever needs you have.
If a team has injuries to their shooting guards, your combo guard can fill that void. If your star point guard is out, pull up your combo guard and toss him in the lineup.
Many players in basketball will hone in on a specific skill set and become incredible within that skill set. Point guards require a certain skill set, as do shooting guards. Combo guards are great in both fields and can do whatever is needed from them.
Typically, a point guard is 'running point.' They're the initiator of the offense and set up the plays. Almost like a quarterback for a football team. The offense runs through your point guard.
And then you have a shooting guard who has a title that explains exactly what they need to do. Shoot! That's right, a shooting guard is a prolific scorer.
They have range, accuracy and they can score at will. Now, you don't always see these skills transfer from one guard position to another. That is why a combo guard is so special; They have a strong hold on both skill sets.
Sometimes the role of a combo guard can come from the defensive side. A team may have a future Hall of Fame (HOF) point guard, but that player isn't so great at defense.
And this very same team may be playing against another point guard who is also HOF material. Rather than ask their point guard to defend the opposing point guard, the combo guard can take that assignment. This allows the point guard to focus mainly on offense and not expend as much energy on the defensive side.
While combo guards may be asked to play shooting guard one week and then switch to point guard the next week, they could also be asked to switch in the middle of a game.
If one player gets injured or gets into foul trouble, you may ask your combo guard to switch their role mid-game. Asking a combo guard to switch mid-game could be part of a strategy.
Switching a player's role after halftime could be quite confusing to the other team, thus giving your team an advantage. The main takeaway here is that a good combo guard can do whatever 'the one' or 'the two' position can do and is always ready to do either. It all depends on what their team needs at any given moment.
Who Is The Best Combo Guard In The NBA?
To help illustrate the roles of combo guards and how they help a team, it's helpful to know some of the best combo guards in the NBA.
Ranking combo guards in the NBA can vary from person to person, but many who follow the NBA understand that Donovan Mitchell of the Utah Jazz is a magnificent young player.
He's 6'1, which is a tad small for a combo guard, but because he weighs 215lbs, he appears to have a larger stature. You'll often see Donovan "Spida" Mitchell bringing the ball up the court and facilitating, but the guy can score at will from every level.
If you look at Devin Booker of the Phoenix Suns, he absolutely fits the persona of a combo guard. Point guard abilities? Absolutely. Booker has often brought the ball up the floor, set up the offense and distributed the ball to his teammates as needed.
He's a true leader of his team. And when it comes to the 'shooting' guard side of things, Booker is a lethal scorer. He stands at 6'5 and not only has he averaged around 23 points per game over his career, but he is just one of only six players ever to score 70 or more in a single game.
Next is James Harden. At 6'5, he's the poster child for a combo guard in the NBA. Granted, he prefers to spend more of his time as a point guard, by controlling the offense and running the plays, he's also one of the best shooters ever. He transitioned to playing point guard later in his career, but he's a prolific scorer and an amazing passer.
Let's take a look at Kyrie Irving now. Kyrie started as more of a point guard but has played with many players who have taken on point guard responsibilities. His time with LeBron James saw him playing more off-the-ball and more as a shooter.
Kyrie can run point for a team at any given time, but to have someone else play point guard and let Kyrie stick to shooting, is a scary thing for opposing teams. Kyrie has shot about 47% from the field and almost 40% from three-point range for his career.
Lastly, at 6'3, a name that everyone knows, Stephen Curry. He is often thought of as only a point guard, but Steph has played off-the-ball a lot. Most times he's bringing the ball up the court and initiating the offense, but he's also had teammates who could bring the ball up court, allowing him to focus on shooting.
The name Curry is synonymous with three-point shooting. Not only is Curry one of the best, if not the very best, three-point shooter of all time, but his range also extends close to half-court.
Who Is the Best Combo Guard In NBA History?
Aside from the current players we previously mentioned, because some of them very well may end up on this list someday, we'll focus only on players that have already retired.
The combo guard is much more popular in recent years and if you go back far enough in NBA history, there were very few. This is why a guy like Jerry West stands out so much.
Playing from 1961 to 1974, West was one of the very few combo guards in the league and excelled in the role. He was about 6'3, so height gave him an advantage. His ball-handling skills were top notch and he averaged 27 points and 6.7 assists per game throughout his career, so it's clear this guy could score or dish the ball out to his teammates.
Also playing from 1961 to 1974 was another incredible combo guard – Oscar Robertson. He spent more time playing point guard, but don't think for a moment that The Big O couldn't shoot.
He averaged 25.7 points and 9.7 assists per game throughout his career. He was also the very first player to ever average a triple double throughout an entire season. Oscar Robertson is in the pantheon of elite guards, period.
In more recent history, one of the best combo guards the game has ever seen was Allen Iverson. He was nicknamed 'The Answer' because he was the answer to any problem your team had.
He was just 6'0, but that never stopped him from scoring on anyone. His ball-handling skills were some of the best in NBA history and his shot-making ability was coachingkidz.com/what-is-a-triple-double-in-basketball-the-ultimate-resource/(opens in a new tab)elite.
Dwyane Wade is another one of the best combo guards the NBA has ever seen. At 6'4, he had true point guard skills with excellent ball-handling and passing abilities and would be a Hall of Famer even if he never once played shooting guard.
You could say the same if he only played shooting guard and never ran the point. You don't get a nickname like 'The Flash' for being average.
Finally, it would be a sin to leave Magic Johnson off this list. Magic is most people's best point guard in NBA history. With his phenomenal facilitating ability, he mainly played the point guard position.
However, at 6'9, Magic was beyond unique. He actually could play any position on the court, but his size and scoring ability lent themselves to playing shooting guard as well as point guard and dominating defenders no matter where he was on the court.
What Are the Different Types Of Guards In Basketball?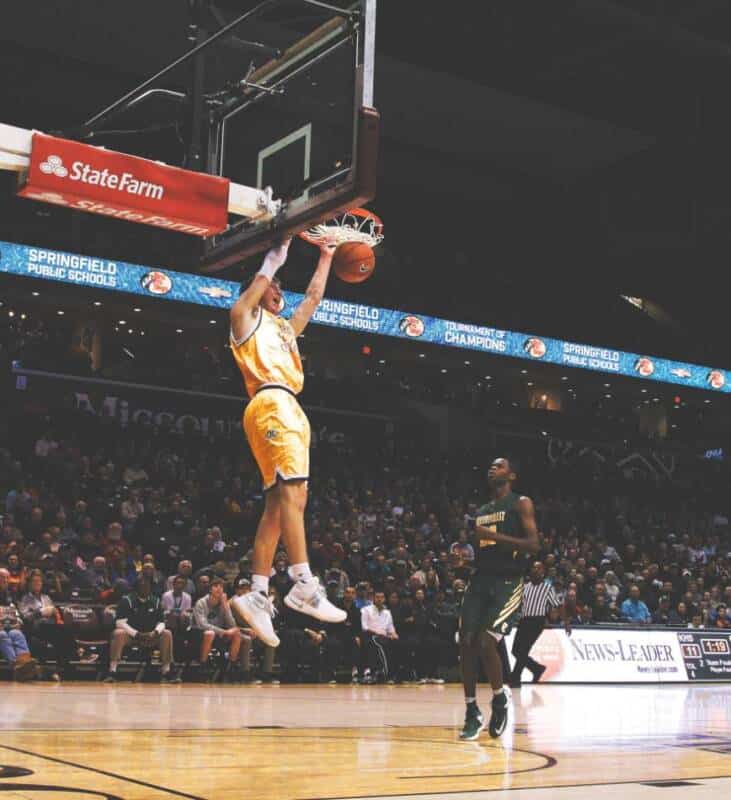 As we had mentioned before, there are basically two types of guards in basketball, with a combo guard being a combination of these two guards. You have the point guard, or 'the one' and the shooting guard, or 'the two.'
During a game, there are five players for each team on the court. They fill the positions, one through five. Going from one to five tends to lead you from the shortest to the tallest player, though not always. This means most times, your one and two are the two smallest players on the court.
Because of this, your point guard and your shooting guard are expected to have certain skill sets. They aren't the tallest players so they aren't expected to get rebounds or be near the hoop, defending it, blocking shots, etc.
Your guards tend to play farther out, near or past the perimeter. They're usually your best ball handlers on the team and they tend to have a better outside shot than other players.
Although the NBA has developed so much in past decades, that now even much taller players have great outside shots oftentimes. They may even have great skills handling basketball.
Still, even when we talk about players like Kevin Durant, who is almost seven feet tall and plays small forward and power forward (the three and the four) but has an excellent outside shot and great handling of the ball, you will often hear commentators talk about the rarity that someone with his height having 'guard-like skills.'
Another thing to note is that your guard positions usually play defense against the other guards on the opposite team. This tends to be because of the fact that they're usually similar sizes and heights and will be of similar speed, quickness and agility.
Now, you're likely wondering, what are the specific roles of each of these guards? What is expected from a point guard and a shooting guard? So, let's get into that.
What Is a Point Guard?
A point guard, 'the one', is the initiator of the offense nine times out of 10. As a team runs up the court, the point guard dribbles the ball up the court.
Everyone else will get into position, whether it be under the hoop, near the three-point line, and the point guard will usually bring the ball up to the top of the key.
Oftentimes, they bring the ball up to the center of the three-point line or beyond it, giving them a clear view of the frontcourt and everyone on the court.
You'll often see a point guard calling out plays and motioning with their free hand. Perhaps, pointing to certain players and telling them where to go or maybe holding up one finger or two, signaling a specific play for the team to run.
As mentioned, the point guard is the equivalent of a quarterback in football, and the specific skill set they must have is what allows them to run the offense.
Good ball-handling is a must. You'll often hear people refer to players with great 'handles' and that's referring to the way someone dribbles the ball. The best guards almost look like they have the ball on a string.
They have complete command of it and can move with the ball seamlessly, getting around defenders and to where they want to be. Point guards also need to be great passers and have great 'court vision' which refers to their ability to see everything happening around them, which helps them get their timing down when making pinpoint passes.
All of these skills help them especially considering they're some of the shortest players on the court. Let's talk about some famous point guards that perfectly embody what a point guard should be. Chris Paul, who stands at only 6'0 he is a perfect example.
His ball-handling is excellent, and he's a skilled scorer and shooter, yet his passing is probably his greatest strength. He averaged 9.4 assists per game over this career, which ranks fourth-best in NBA history.
Who Is the Leader in Career Assists Per Game?
Well, that would be the previously mentioned Magic Johnson, who averaged 11.2 assists per game. However, another prototypical point guard is number two on that list, with 10.5 career assists per game, 6'1 John Stockton.
In 19 seasons in the NBA, Stockton tallied 15,806 assists, the most of any player in history. He was excellent at finding his teammates, delivering them the ball, and giving them an easy scoring opportunity.
Most Stockton highlights won't be of him scoring, rather they'll be of him passing the ball to Karl Malone or some other teammate who subsequently scores. That is exactly what you want from your point guard.
What Is a Shooting Guard?
We'll get into what a shooting guard is now, but before we dive into the topic, it may be helpful to know who are some of the more famous and best shooting guards in NBA history. Reggie Miller, at 6'7, is one of the best shooting guards to ever play the game. That's all he did – shoot. Unlike a point guard, passing and assists were not a huge priority for him.
Miller averaged just 3 assists per game over his career, but he averaged 18.2 career points per game over his career, shooting 39.5% from behind the three-point line. Miller is one of the best three-point shooters of all time.
Another one of the best shooting guards of all time is Ray Allen. He's 6'5, and another elite scorer. Over his career, Allen averaged 18.9 points per game and held a three-point field goal percentage of 40%. Allen was an amazing all-around player in his early years and in the latter stages of his career became more of a shooter, which was a skill he never lost.
The most famous and best shooting guard of all time is Michael Jordan. If you envision Jordan, you envision what a shooting guard should be. He's 6'6 and averaged 30.1 points per game over his career, the best in NBA history.
Jordan wasn't just a scorer, though that was his forte. He also averaged 5.3 career assists per game and was an amazing defender. His height and length allowed him to defend a variety of players.
So, now that you have images of Reggie Miller, Ray Allen and Michael Jordan floating around in your head, you can envision a prototypical shooting guard. They can score from many levels – in the paint, from mid-range, and have a great outside shot, whether it be a deep two or a three-pointer.
They also have excellent ball-handling skills, although probably not as good as a typical point guard. Lastly, they have more size than point guards and usually more than combo guards.
As you may have noticed, our height examples of shooting guards were 6'5, 6'6 and 6'7. Our examples of point guards were 6'0 and 6'1, and many of our combo guards fell somewhere around 6'3.
Shooting guards don't necessarily have to have the height of Jordan or Miller, but you typically want them to have some size. After all, it's always easier to get a shot off over a defender when you're taller.
Meanwhile, point guards have an easier time snaking through defenders and using quickness and agility when they're a touch smaller. This is why combo guards tend to fit somewhere in between in terms of height. They have the skillset of both positions and are a happy marriage of the two.
Related Articles